Hempura Refined CBD Oil with Terpenes (10ml)
Hempura's Premium Refined CBD Oil's are enriched with terpenes and perfect if you are interested in experiencing the full potential of CBD without the strong scent and flavour of hemp. Due to an extra filtration to remove excess waxes and plant matter, our refined CBD oil formula has a clean, gentle taste that is not overpowering.
Refined means the CBD hemp extract has been put through an additional filtration step to remove chlorophyll and excess plant material to yield a clean, potent, golden coloured CBD oil. In addition to its mild and pleasant taste, state-of-the-art extraction processes ensure that the hemp's naturally occurring terpenes and other beneficial compounds are preserved.
Hempura firmly believe the benefits of CBD can only be achieved by preserving the original composition of the natural ingredients found in hemp. This refined premium CBD extract is 100% organically grown and free of artificial additives.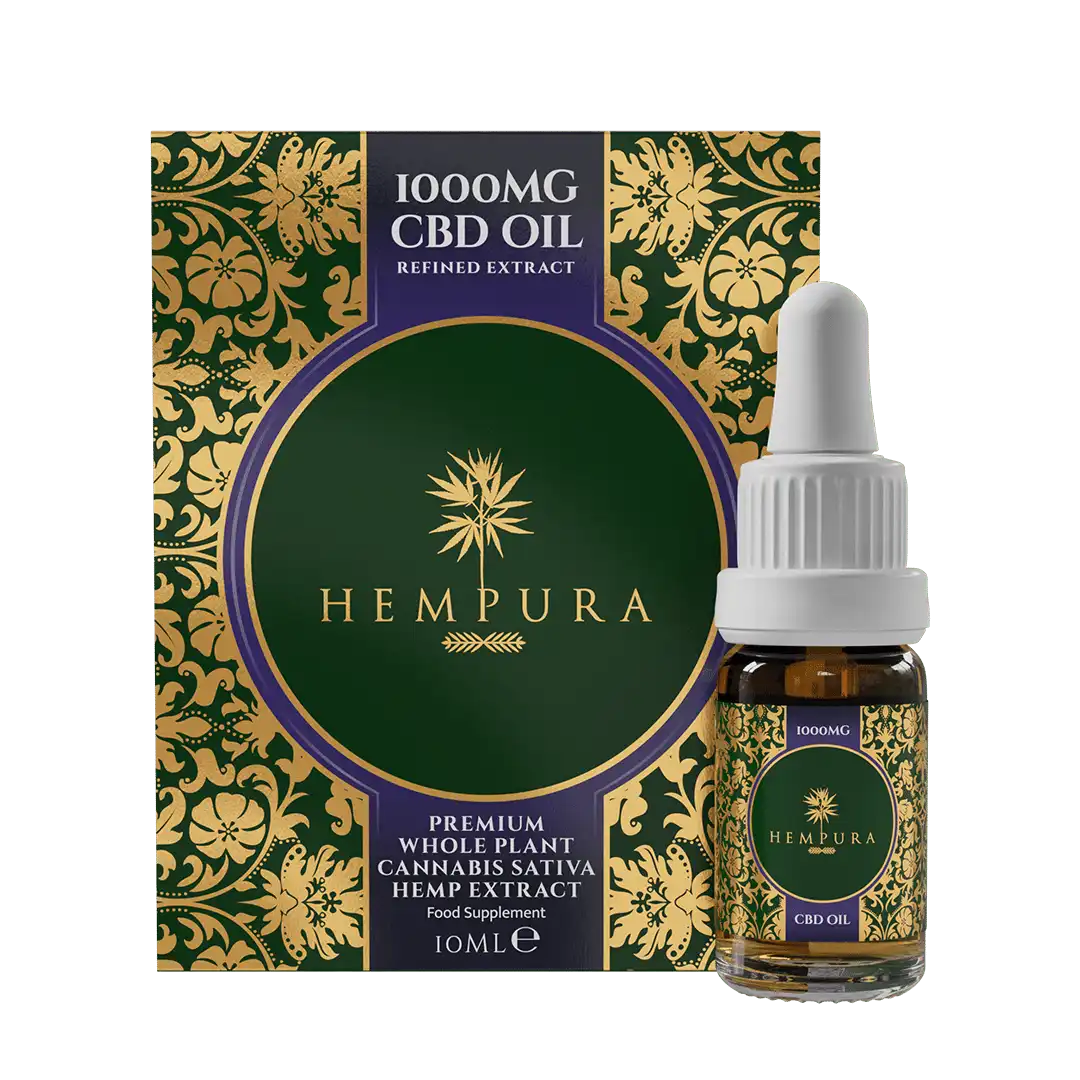 Profoundly Effective in Small Amounts.
Lab Tested for Guaranteed Quality.
Hempura Refined CBD Oil with Terpenes
Place the CBD oil beneath the tongue for up to 90 seconds before swallowing. Do not exceed more than 70mg per day.
250mg Refined CBD Oil:
1.25mg CBD per drop (~200 drops per bottle)
500mg Refined CBD Oil:
2.5mg CBD per drop (~200 drops per bottle)
1000mg Refined CBD Oil:
5mg CBD per drop (~200 drops per bottle)
CBD rich hemp extract, food-grade hemp seed oil.
Unleashing the Full Potential: Hempura's CBD Oil with Terpenes
In today's ever-evolving wellness landscape, discerning buyers crave authenticity, efficacy, and transparency. We don't just offer another CBD product. We crash culture and redefine CBD experiences. Enter Hempura's Refined 1000mg CBD Oil with Terpenes – a trailblazing concoction that marries science, nature, and consumer needs seamlessly.
Why CBD Oil with Terpenes? Terpenes aren't just aromatic compounds; they are the unsung heroes of the hemp world. When synergized with CBD, they magnify the holistic benefits, offering users an enhanced entourage effect. Simply put, you aren't just getting CBD; you're harnessing the full spectrum of hemp's magic.
Pure & Refined: Our innovative filtration process sheds excess waxes and plant matter, giving you a golden-hued, potent CBD oil. Dive into the experience without the overpowering scent and taste of hemp.

Compliance & Quality: Our commitment isn't just to quality, but to compliance. Hempura CBD Oil is a testament to organic growth, devoid of artificial additives. We champion a CBD world where safety meets efficacy.

Preservation of Goodness: Unlike the industry's crash-and-burn approaches, we preserve the naturally occurring terpenes and beneficial compounds of hemp. Our belief is unshaken – the true benefits of CBD can only be unlocked by maintaining the integrity of hemp's natural ingredients.
Directions Tailored For You
Navigate the CBD journey on your terms. Place the CBD Oil with terpenes beneath your tongue, wait for 90 seconds, and then embrace the natural goodness. And remember, moderation is key. Keep it below 70mg per day to enjoy the therapeutic mosaic of Hempura's CBD oil.
We're not just another brand on the shelf. We're in a paradigm shift. Our CBD Oil with terpenes stands as a beacon of what's possible when tradition meets innovation. Every drop, sourced from CBD-rich hemp extract and fortified with food-grade hemp seed oil, is a drop of dedication, research, and commitment to you, the consumer.
In a world where information crashes against our senses constantly, make a conscious choice. Opt for authenticity. Opt for potency. Opt for Hempura's CBD Oil with terpenes, where every bottle is a promise of purity.
Because in the end, we don't just sell CBD. We sculpt wellness narratives, one drop at a time.
You might like these products too...
Get the latest articles and business updates that you need to know, you'll even get special recommendations weekly.
By submitting this form, you are giving us permission to contact you directly via email or telephone. You can opt out at any stage, and your contact data will never be shared with any 3rd party without your explicit consent. Our Privacy Policy.
Call us on
203 965 2420
and speak to one of our CBD experts. Or you can email us at
info@britishcannabis.org
or send us a message
here
.
Our CBD experts are available 9am to 5pm Monday to Thursday, 8am to 4:30pm on Fridays. Our offices are closed Bank Holidays and Weekends.