Hempura Precision CBD Sport – Pure 3000mg Orange Flavoured CBD Oil (30ml)
Experience the exceptional benefits of Hempura's Precision Pure Sports CBD Oil, meticulously crafted to be your ultimate performance partner. This specialised formula has been developed with utmost precision to enhance your athletic endeavours and aid in efficient recovery. With absolutely zero THC and premium-grade CBD that is rigorously tested and certified in reputable labs, you can confidently harness the potential of CBD without any unwanted psychoactive effects. Hempura's commitment to quality ensures that you receive only the purest CBD experience.
To elevate your sensory experience, Hempura has infused this sports CBD oil with natural hemp terpenes and carefully selected natural flavours, resulting in a refreshing orange taste that appeals to a wide range of palates. Enjoy the clean and invigorating flavour while reaping the benefits of CBD.
Not only does the Precision Pure Sports 3000mg CBD Oil offer exceptional quality and flavour, but it also comes in a larger-than-usual 30ml bottle. Packed with an impressive 3000mg of CBD, it stands as Hempura's strongest and highest level of CBD concentration yet.
This means you can take your performance and recovery to new heights.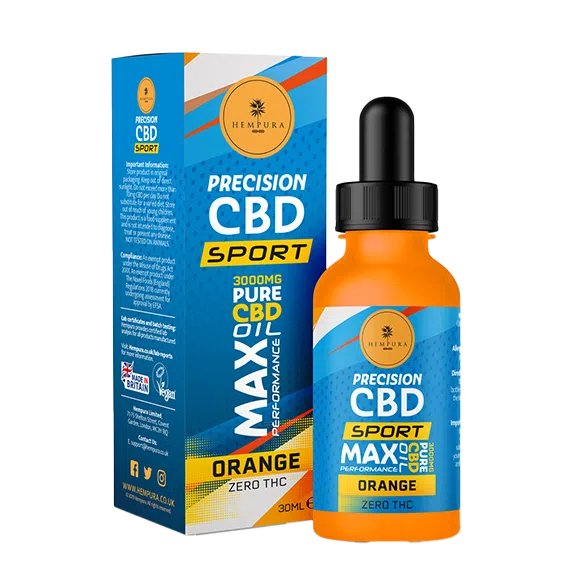 Profoundly Effective in Small Amounts.
Lab Tested for Guaranteed Quality.
Hempura Precision CBD Sport - Orange Flavour
Fill the pipette up to the 0.25ml line and place the oil underneath the tongue before, during or after the activity. You should not exceed more than 70mg per day. The oil should be placed beneath the tongue for up to 90 seconds before swallowing.
5mg CBD per drop
3000mg of CBD + other trace compounds in each bottle
Super clean pure extract – rich in cannabidiol and terpenes
No artificial flavours, colours or preservatives
High-quality CBD from a hemp extract, MCT Coconut Oil, Natural flavourings.
Unlock Your Performance with Hempura 3000mg CBD Oil
In today's world, where precision, potency, and purity are paramount, athletes and wellness enthusiasts are consistently on the hunt for products that stand out and deliver. Enter Hempura's Precision Pure Sports CBD Oil, the pinnacle of performance enhancers, boasting a game-changing 3000mg CBD Oil concentration.
Why Hempura's 3000mg CBD Oil?
When we say "exceptional," we mean it. Crafted with meticulous care and geared towards individuals striving for peak performance, our 3000mg CBD Oil is not just about the numbers; it's about the experience. Harnessing the power of premium-grade CBD, this product promises efficient recovery, minus any psychoactive elements, thanks to its zero THC content.
But we're not just about efficiency. We understand that to truly enjoy the benefits of our 3000mg CBD Oil, the experience should be delightful. Infused with invigorating natural hemp terpenes and a refreshing orange flavour, each drop is a celebration of nature and science in harmony.
Taking CBD to New Heights
Hempura's commitment to innovation and quality shines brightly with this offering. The 30ml bottle, larger than what's typically available in the market, ensures that you're equipped with a potent dose each time. Our 3000mg CBD Oil is a testament to our relentless pursuit of excellence, aiming to elevate your performance and recovery journeys.
How to Experience the Best of 3000mg CBD Oil
For those ready to dive into the transformative world of CBD, use the oil as directed—place it beneath the tongue, savour the flavour, and prepare for an unparalleled CBD experience. It's not just oil; it's a revolution in a bottle.
By seamlessly blending the potency of 3000mg CBD Oil with the assurance of Hempura's quality, we're introducing the world to a product that doesn't just meet expectations but redefines them. Buy today and discover the Hempura difference today.
You might like these products too...
Get the latest articles and business updates that you need to know, you'll even get special recommendations weekly.
By submitting this form, you are giving us permission to contact you directly via email or telephone. You can opt out at any stage, and your contact data will never be shared with any 3rd party without your explicit consent. Our Privacy Policy.
Call us on
203 965 2420
and speak to one of our CBD experts. Or you can email us at
info@britishcannabis.org
or send us a message
here
.
Our CBD experts are available 9am to 5pm Monday to Thursday, 8am to 4:30pm on Fridays. Our offices are closed Bank Holidays and Weekends.