ACCESS CBD® Shortfill Flavoured Vape Oils offer an effective method to dose our unique blend of naturally occurring cannabis terpenes, fruity flavours and most importantly CBD.
Due to the method of delivery this product offers a high bioavailability of CBD into your system.
Vaporising your CBD intake will increase the speed at which the CBD is absorbed, but will not necessarily last as long as other CBD methods.
For those who do 'vape' however, CBD liquids are a great way to top up the best CBD vape juice experience throughout your day.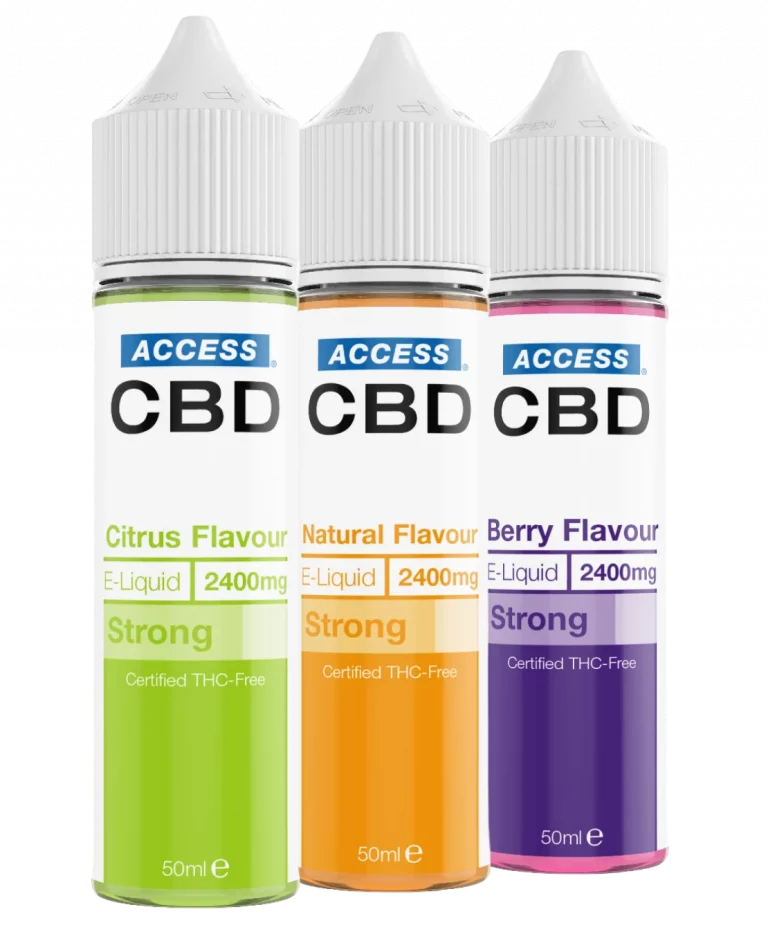 Every batch is quality tested for purity and contaminants.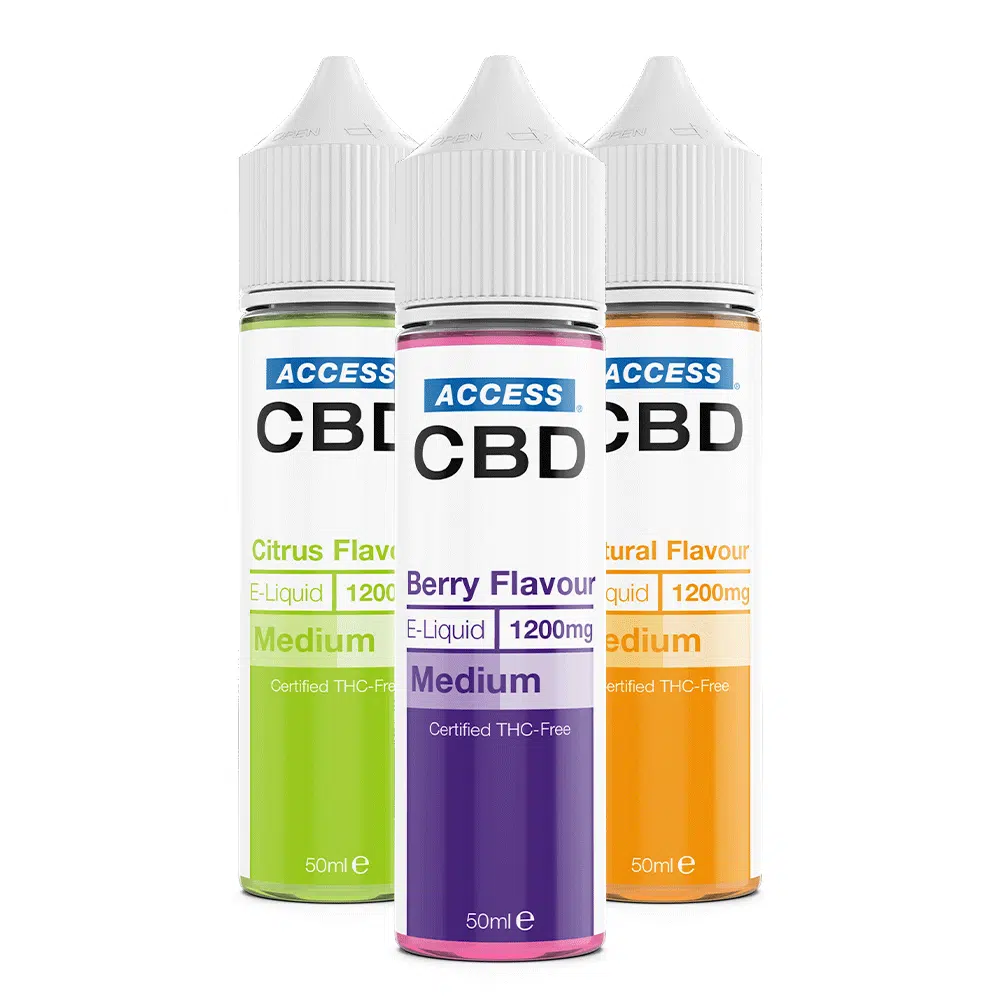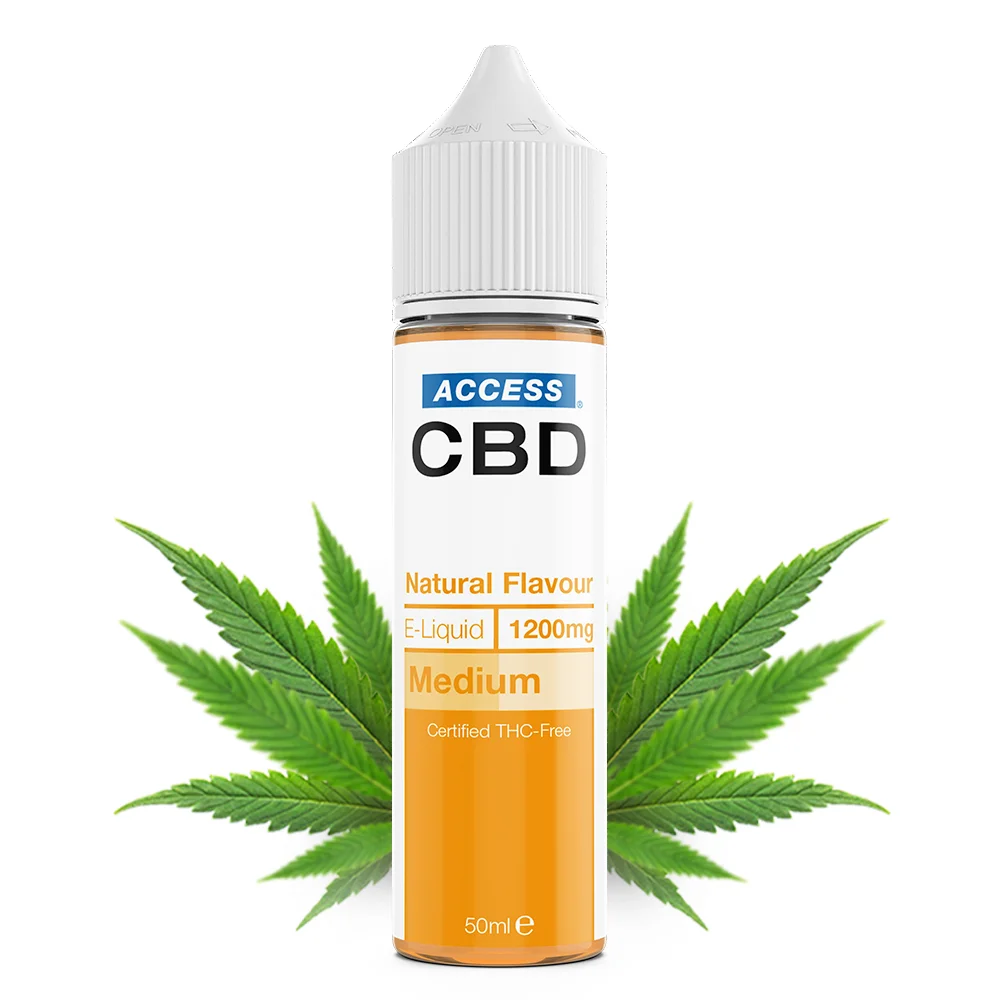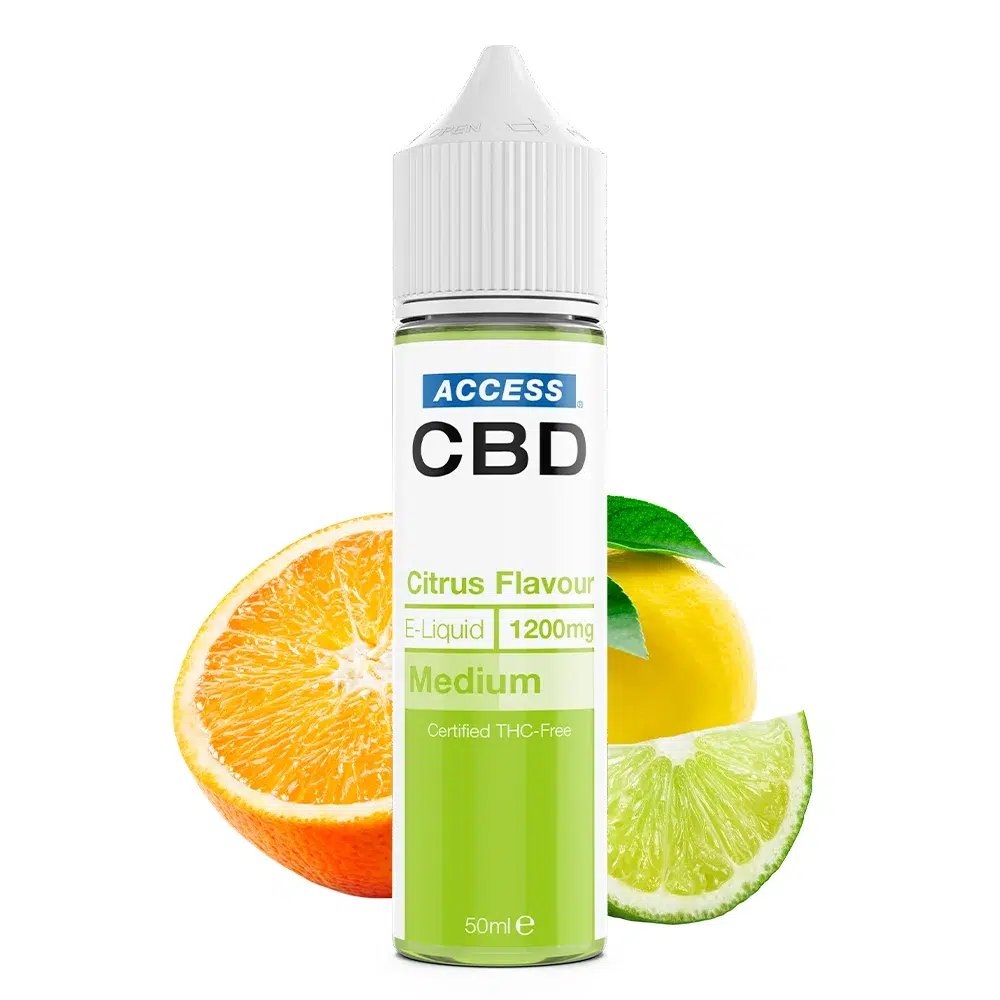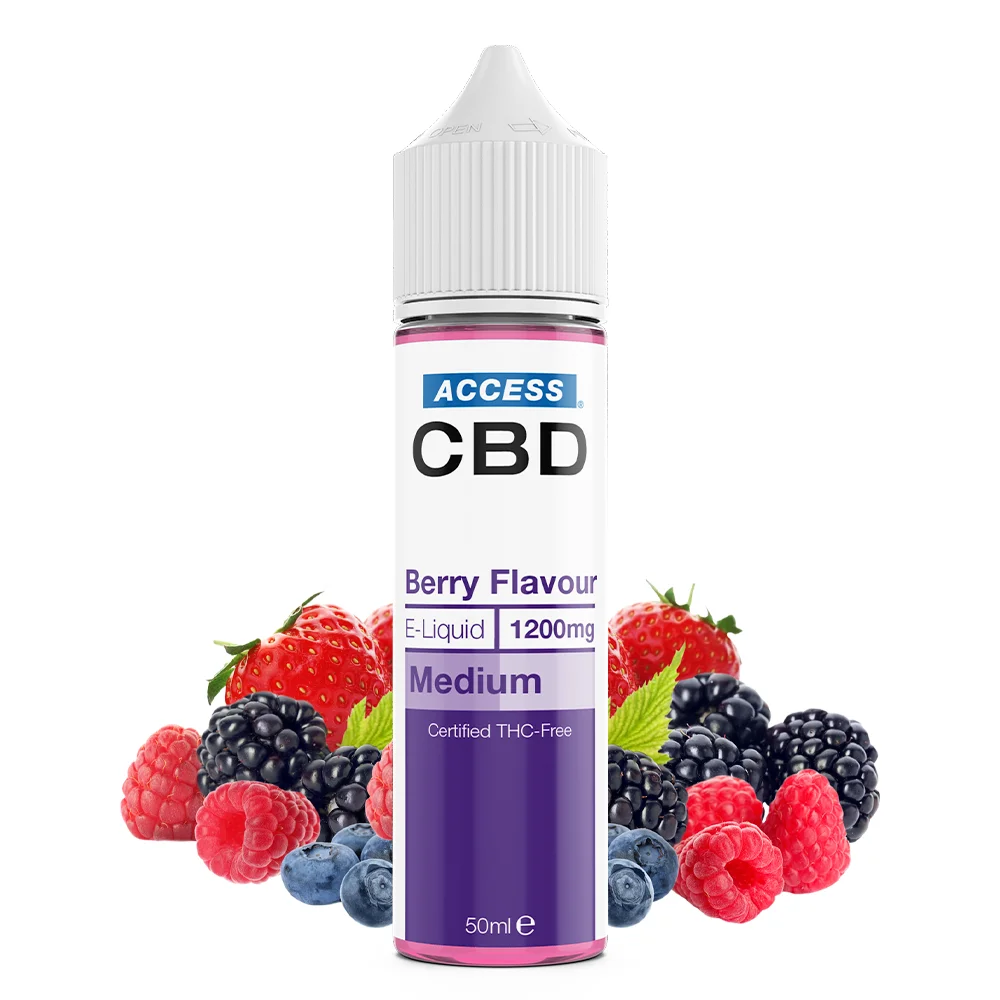 squeeze e-liquid straight into your vaping device. For CBD content per 2ml, please see below.
ACCESS CBD E-Liquid 1200mg
CBD per 2ml of vape oil = 48mg (2.4%)
ACCESS CBD E-Liquid 2400mg
CBD per 2ml of vape oil = 96mg (4.8%)
PG: 60% / VG: 40%
Mono-Propylene Glycol, Vegetable Glycerine, Cannabis sativa L. (CBD), Natural Terpenes, Flavourings, Colouring.
CBD Content per 50ml: 1200mg (2.5%) & 2400mg (4.8%)
BEST CBD VAPE JUICE BUYERS GUIDE
CBD Vape - Flavours Profiles
ACCESS CBD® Shortfill Vape Oils contain hundreds of unique cannabis compounds. This broad plant spectrum, vegan-friendly, CBD vape oil is enriched with naturally derived terpenes and cannabis phytochemicals.
Choose from two strengths in three great tasting fruity flavours, including:
🍓Berry a mix of all your favourite Summer Fruits.
🍊Citrus a refreshing tang of Orange, Lemon and Lime.
🌿Natural the original blend of nutty earth-like notes.
These smooth, THC-free CBD vape oils are suitable for most devices, however we advise checking your device prior use.
How much CBD vape should I take?
CBD Oil
for vaping has no reported negative side effects, so there are no recommended dosages – providing it's coming from a reputable source. It is up to the user to figure out what dosage is right for them based on their individual needs.
To find out what level of CBD vape juice is right for you, start with the lowest dosage and work your way up.
You can also go for the highest strength since it's a non-harmful, non-toxic, and non-psychoactive substance.
You should also be aware that your body can only absorb 200mg of CBD every 24 hours.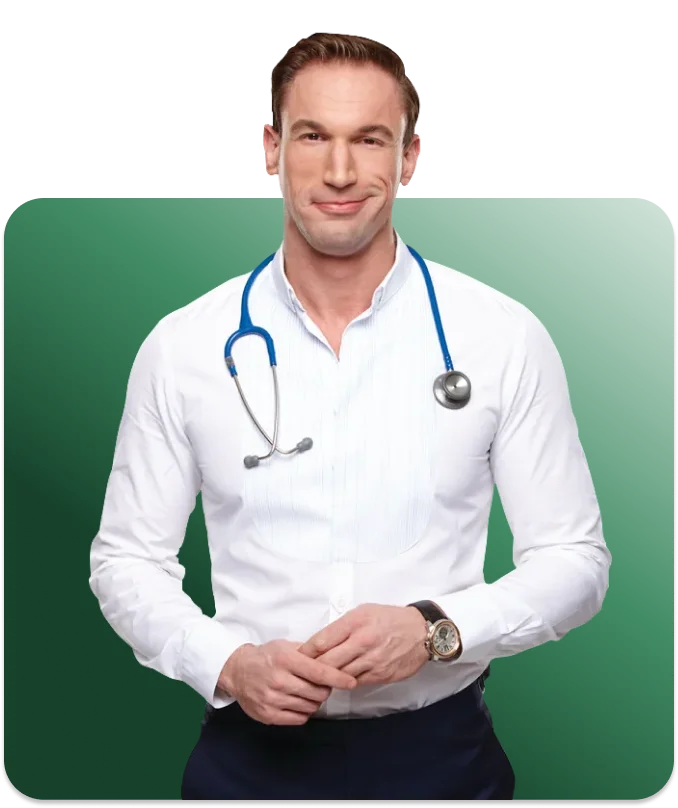 in an exclusive partnership with british cannabis™
Your CBD GUIDE with DR. Christian Jessen
Reviewed by 24 customer(s)
Vaping bliss

For me, it's become a brief oasis of calm in a hectic day. I also appreciate the variety of flavours available with cbd vape oils. The fruity options are delightful, and they add an extra layer of enjoyment to the experience. Whether it's the sweet tang of berry or the refreshing notes of citrus, these flavours make the act of vaping cbd even more enjoyable.I must say, I've had excellent experiences with the packaging and delivery of the products as well. They always taken care to ensure that the products arrive in perfect condition, and the delivery process has been swift and reliable. It's reassuring to know that you can count on timely access to something that brings you relief and comfort. Overall, vaping has made a positive impact on my life, providing not only relief from anxiety but also a source of relaxation and enjoyment in my daily routine.

Great relief

The fast acting nature of vaping makes it perfect for those moments when you need immediate relief. I find that it calms my racing thoughts and helps me feel more grounded. It's like having a safety net in my pocket for those unexpected anxiety spikes. Highly recommended for anyone dealing with anxiety issues. My friend's experience with cbd vape oil has been truly remarkable as well. She's been living with chronic pain due to a back injury, since she started using cbd vape oil, she's been able to manage her pain more effectively and without those undesirable side effects. We both happy with the results!

No side effect

The immediate relief i experience after a few inhalations is remarkable. It doesn't completely eliminate the pain, but it certainly makes it more bearable. I appreciate that it's a natural ingredients and it doesn't leave me feeling drowsy or foggy-headed. A quick and efficient delivery can make a big difference when I'm in need of relief or relaxation. It's reassuring to know that I can rely on them to get my vape oil to me promptly and discreetly, making the entire experience hassle-free.Thank yo so much for this amazing product!

A calming companion

I've been using their cbd vape oil for a while now, and it's truly been a great experiences. The convenience of vaping makes it an easy addition to my daily routine. Whenever I feel tension creeping in, a few puffs of vape oil help me unwind and regain my composure. Unlike some other methods, vaping provides almost instant relief. Plus, the calming effects last for hours, allowing me to stay focused and productive throughout the day. And who doesnt love citrus flavour  🤗

Smooth and easy to vape

I tried the vape oil with berry flavour and it was enjoyable! The 1200mg strength gave me the perfect amount of calmness without feeling too drowsy. I have also noticed an improvement in my sleep quality. I love that there are no negative side effects and that i can adjust the dosage based on my needs.
You might like these products too...
Get the latest articles and business updates that you need to know, you'll even get special recommendations weekly.
By submitting this form, you are giving us permission to contact you directly via email or telephone. You can opt out at any stage, and your contact data will never be shared with any 3rd party without your explicit consent. Our Privacy Policy.
Call us on
203 965 2420
and speak to one of our CBD experts. Or you can email us at
info@britishcannabis.org
or send us a message
here
.
Our CBD experts are available 9am to 5pm Monday to Thursday, 8am to 4:30pm on Fridays. Our offices are closed Bank Holidays and Weekends.