Hempura 500mg Refined CBD Vape Juice with Terpenes (10ml)
Hempura's citrus terpene profile vape oil is a delightful blend that offers a refreshing and natural taste without any artificial flavours. With 2.50mg of CBD per 1 drop (0.05ml), our highly effective formula ensures that you get the most out of each dose. Experience the power of pure CBD in a device-safe liquid that is designed to deliver optimal results.
Each bottle contains a generous 200 drops, giving you plenty of servings to enjoy. Discover the perfect balance of flavour, potency, and convenience.
Heating CBD results in its increased absorption and effectiveness in the body. For this reason, our refined hemp extract best CBD vape juice is proven to be an optimal method for the intake of CBD.
When inhaling CBD using a vaporizer, the active compounds quickly enter the bloodstream via the lungs where they are transported throughout the body.
Compared to oral intake, vaping avoids the liver breaking down many of CBD's beneficial compounds and therefore reducing its potency.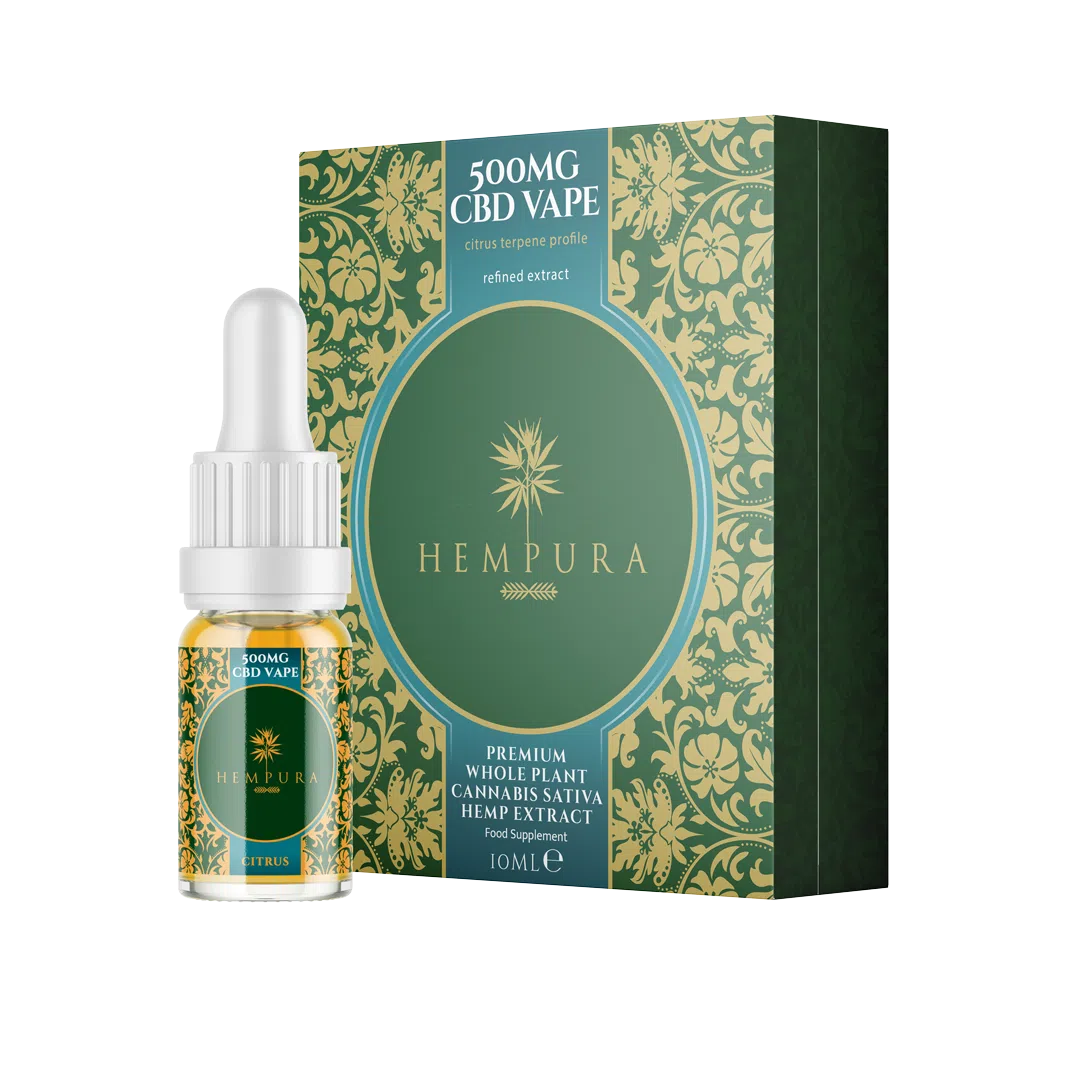 Profoundly Effective in Small Amounts.
Lab Tested for Guaranteed Quality.
Hempura CBD Vape with Terpenes
If you haven't tried vaping CBD before, we recommend starting with 10mg-15mg CBD per day and building your dose up gradually.
Our bodies only need a small amount of oil to get all the benefits. Very high doses of CBD have no added benefit and may cause drowsiness.
If the benefits are not realised or begin to wane after vaping CBD for some time, we recommend vaping 2-3ml per day or moving on to our stronger CBD products.
Vaping CBD is not recommended for persons who suffer from cardiovascular disease, pregnant women, lactating mothers or persons under the age of 18.
Hempura Hemp Extract, VG vegetable glycerin (40%),  PG propylene glycol (60%).
Terpene profile (1%): linalool, myrcene, alpha-pinene, beta-pinene, limonene, terpinolene, and beta-caryophyllene
Hempura's Best CBD Vape with Terpenes
Vaping offers the advantage of a much faster onset of the therapeutic effects, as well as a significantly higher bioavailability of CBD.
Thanks to the enhanced natural citrus terpene flavour of our organic e-juice, vaping CBD is not only highly effective but gentle and pleasant as well.
Our CBD vape juice is suitable for use with all commercially available vaporisers and e-cigarettes. The CBD vape liquid is free of artificial flavours and thus guarantees the full experience of pure CBD.
These compounds include:
Cannabinoids – such as CBD / cannabidiol.
Terpenes – natural substances commonly found in herbs, fruits, flowers and plants. They give CBD its unique aroma and character of effect.
We firmly believe the benefits of CBD can only be achieved by preserving the original composition of the natural ingredients found in hemp.
This refined extract CBD vape juice is 100% organically grown, free of additives and is safe to consume.
Why Choose Hempura 500mg CBD Vape Juice?
Hempura's 500mg CBD Vape Juice is crafted for those who seek the best CBD vape experience. What sets this product apart is its meticulous formulation.
The vape juice contains a refined blend of CBD, infused with natural terpenes that offer a refreshing citrus taste. This unique combination ensures that each vaping session is not only enjoyable but also beneficial.
Pure & Refined: Our innovative filtration process sheds excess waxes and plant matter, giving you a golden-hued, potent CBD oil. Dive into the experience without the overpowering scent and taste of hemp.

Compliance & Quality: Our commitment isn't just to quality, but to compliance. Hempura CBD products are a testament to organic growth, devoid of artificial additives. We champion a CBD world where safety meets efficacy.

Preservation of Goodness: Unlike the industry's crash-and-burn approaches, we preserve the naturally occurring terpenes and beneficial compounds of hemp. Our belief is unshaken – the true benefits of CBD can only be unlocked by maintaining the integrity of hemp's natural ingredients.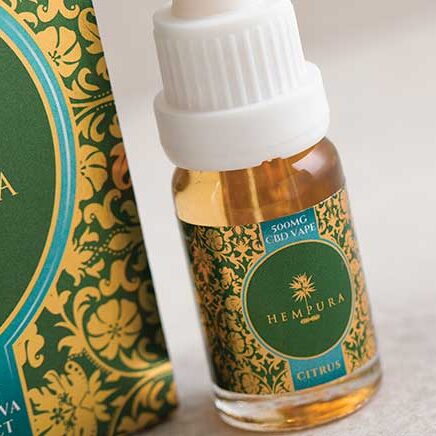 In conclusion, Hempura 500mg Refined CBD Vape Juice by BRITISH CANNABIS is more than just a CBD product. It's a harmonious blend of quality, flavor, and effectiveness.
Whether you're using CBD for relaxation, wellness, or as part of your daily routine, this vape juice is an excellent choice. It embodies the essence of what the best CBD vape should be – a delightful, potent, and pure experience.
You might like these products too...
Get the latest articles and business updates that you need to know, you'll even get special recommendations weekly.
By submitting this form, you are giving us permission to contact you directly via email or telephone. You can opt out at any stage, and your contact data will never be shared with any 3rd party without your explicit consent. Our Privacy Policy.
Call us on
203 965 2420
and speak to one of our CBD experts. Or you can email us at
info@britishcannabis.org
or send us a message
here
.
Our CBD experts are available 9am to 5pm Monday to Thursday, 8am to 4:30pm on Fridays. Our offices are closed Bank Holidays and Weekends.