EndoFlo Purple Punch 500mg CBD Vape Pen (700 Puffs)
Purple Punch is packed with aromatic terpenes, boasting a rich grape and sweet candy flavour with subtle notes of blueberry muffin.
The Endoflo CBD Vape Pen is packed with 700 puffs of 500mg CBD oil. Rich in fragrant, aromatic terpenes, this disposable CBD vape features a unique blend of terpene profiles and is rich in minor cannabinoids from the Cannabis sativa L. Plant.
The Endoflo CBD Disposable Vape is a crystal-resistant cannabis vape pen with THC removed. Purple Punch is a strain of cannabis that is known for its intoxicating, rich aroma.
Its terpenes produce a fragrance that is both sweet and complex, with powerful grape candy and blueberry muffin notes. The grape candy scent is reminiscent of the classic grape-flavoured candies of childhood, while the blueberry muffin scent adds a warm and comforting bakery aroma to the mix.
Together, these scents create a captivating fragrance that is sure to tantalize the senses. As you inhale, you'll be transported to a world of sweet treats and indulgent flavours, and as you exhale, you'll be left with a pleasant aftertaste that lingers on the palate.
Whether you're seeking a flavourful smoking experience or looking to add a sweet touch to your CBD routine, Purple Punch boasts a distinctive fragrance thanks to its exceptional terpene profile.
The Endoflo CBD pen is a disposable device that features a high-performance ceramic coil, ensuring maximum flavour from the first puff to the last. Mixed with a 30% propylene glycol (PG) e-liquid base, our Endoflo distillate has been specifically designed around this ceramic coil design, allowing for consistent flavour all day.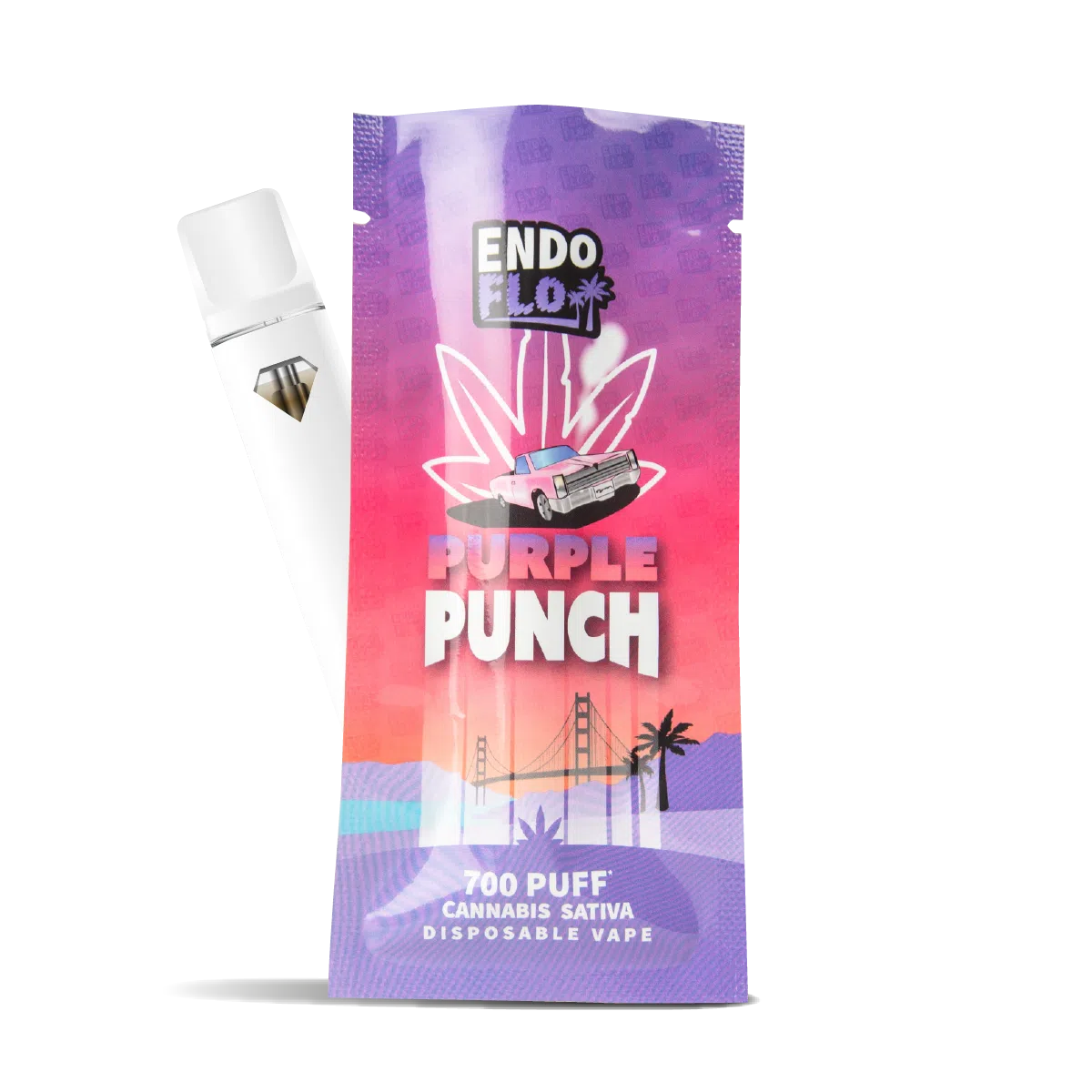 Packed with Aromatic Terpenes.
A Compliant and Legal CBD Vape.
EndoFlo Cannabis Vape Pens are very easy to use. You don't even need to press a button, simply inhale from the device and the auto-draw feature will vaporise the oil automatically.
Endoflo vape pens are made with our unique and innovative CBD distillate oil that is crystal-resistant at room temperatures and is perfect for vaping.
Some CBD vapes contain oil that can solidify and crystalise at room temperatures, meaning you have to heat the device first to melt it.
Rich in aromatic terpenes, our Endo-Flo cannabis oil is crafted using a special blend of cannabidiol (CBD), cannabidiolic acid (CBDa) and cannabigerol (CBG) that is resistant to crystallisation at room temperatures.
CBD Strength:
500mg per pen
Puffs:
700 per pen
Flavour:
Purple Punch
E-Liquid Capacity:
1.0ml
Vaping CBD is a popular way to experience the benefits of CBD oil quickly and efficiently. By inhaling CBD vapour, you can enjoy its relaxing effects and potential health benefits in just a few minutes. Vaping is also a discreet and convenient way to consume CBD, making it perfect for use at home or on the go.
CBD vape oils are available in a variety of flavours, strengths, and formulations, making it easy to find the perfect product to suit your needs. If you're looking for a fast and effective way to enjoy the benefits of CBD, vaping is a great option to consider.
What makes EndoFlo unique?
Simple and Convenient: The Endoflo CBD disposable vape is designed for easy and hassle-free use, making it the perfect choice for anyone looking for a simple, convenient CBD vaping experience.


Compliance is King: Endoflo CBD goes above and beyond to ensure that we are 100% compliant with all regulations and guidelines. We conduct a full toxicological risk assessment and create material safety data sheets, so you can rest assured that you are using a safe and compliant product.


Rigorously Tested: Endoflo CBD disposable vape is subjected to product safety testing using e-cig MHRA procedures, ensuring that it meets the highest standards of safety and quality.


Full Spectrum Extract: Endoflo CBD disposable vape contains all the natural cannabis cannabinoids and terpenes, which work together to produce the entourage effect, delivering a powerful and effective vaping experience.


Non-Crystallizing Extract: The unique formula used in the Endoflo CBD disposable vape prevents the extract from crystallizing, ensuring a smooth and consistent vaping experience every time.


New Extract Technology: Endoflo CBD disposable vape uses the latest and most advanced extract technology, delivering the best possible effects and benefits from your CBD vaping experience.


Trusted and Reliable: Endoflo is a trusted and reliable brand that puts quality and customer satisfaction first. You can trust that your Endoflo CBD disposable vape will always deliver the best possible experience.
 
Packed with Aromatic Terpenes
Our latest cannabis sativa extract is specially formulated to deliver the best euphoric effect possible. It's packed with a unique blend of terpene profiles and is rich in minor cannabinoids from the Cannabis sativa L. plant. Our team of experienced experts has carefully crafted Endoflo to provide you with the most authentic and enjoyable cannabis experience possible. With our high-quality cannabis extracts, every puff you take is filled with the purest, most potent cannabinoids and terpenes available!
A Compliant and Legal CBD Vape
At EndoFlo, compliance is king. Our CBD vape pens are fully compliant and legal to sell and use in the UK and EU. EndoFlo products are rigorously tested by an independent third-party laboratory to ISO 17025 standards and we can CoAs and lab reports are available to download at the click of a button from our Lab Results page.
Available in Five Punchy Flavours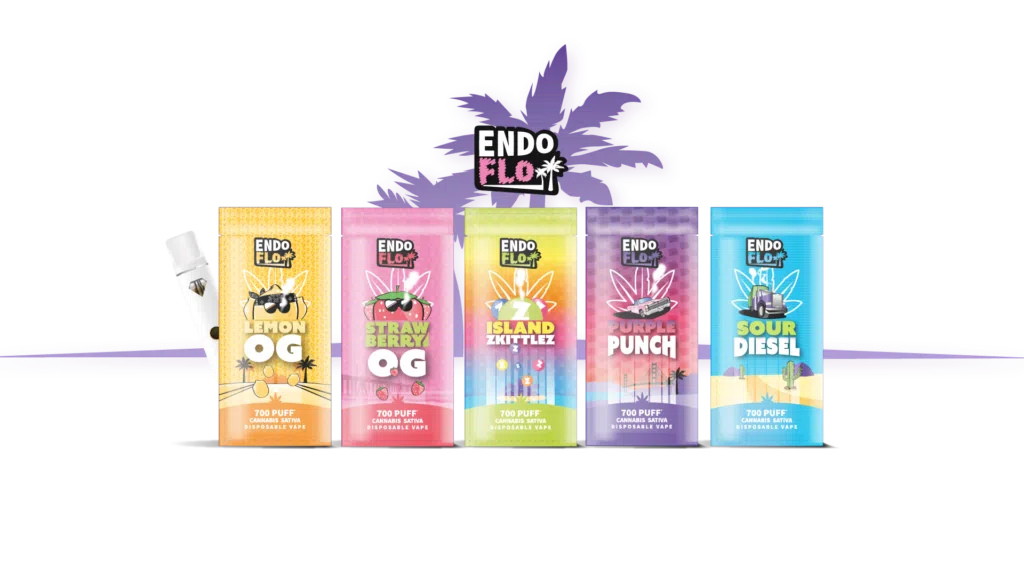 You might like these products too...
Get the latest articles and business updates that you need to know, you'll even get special recommendations weekly.
By submitting this form, you are giving us permission to contact you directly via email or telephone. You can opt out at any stage, and your contact data will never be shared with any 3rd party without your explicit consent. Our Privacy Policy.
Call us on
203 965 2420
and speak to one of our CBD experts. Or you can email us at
info@britishcannabis.org
or send us a message
here
.
Our CBD experts are available 9am to 5pm Monday to Thursday, 8am to 4:30pm on Fridays. Our offices are closed Bank Holidays and Weekends.