ACCESS CBD® Shortfill Flavoured Vape Oils offer an effective method to dose our unique blend of naturally occurring cannabis terpenes, fruity flavours and most importantly CBD.
Due to the method of delivery this product offers a high bioavailability of CBD into your system.
Vaporizing CBD allows for faster absorption but may not provide prolonged effects compared to other methods.
If you're a vaper, this Strongest CBD Vape Oil UK offer a convenient option to supplement your CBD intake throughout the day.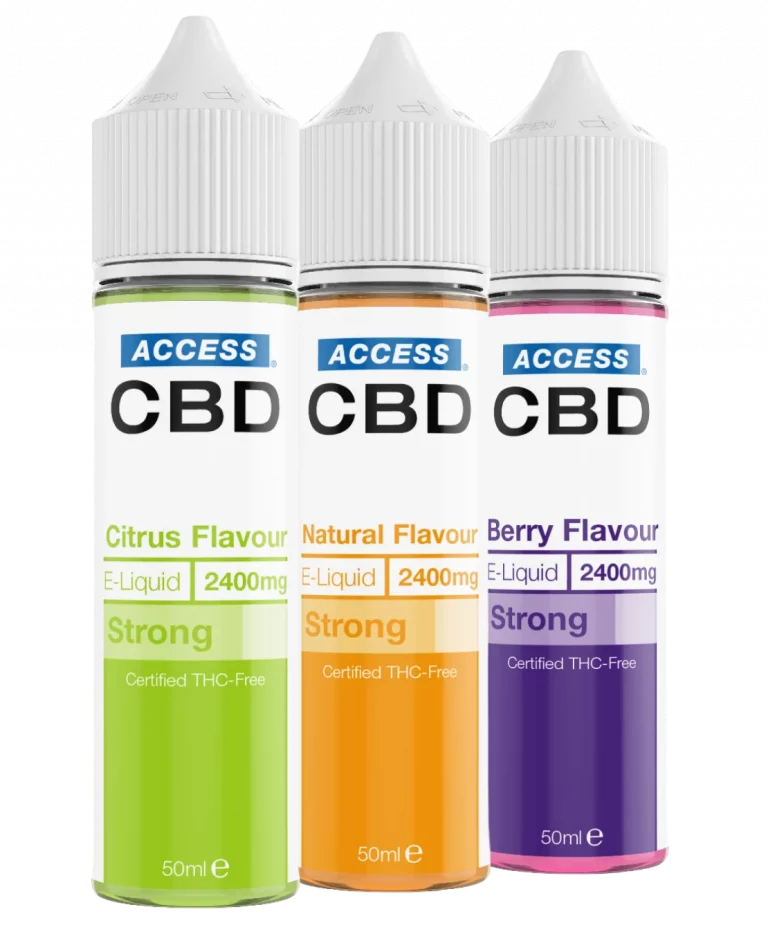 Every batch is quality tested for purity and contaminants.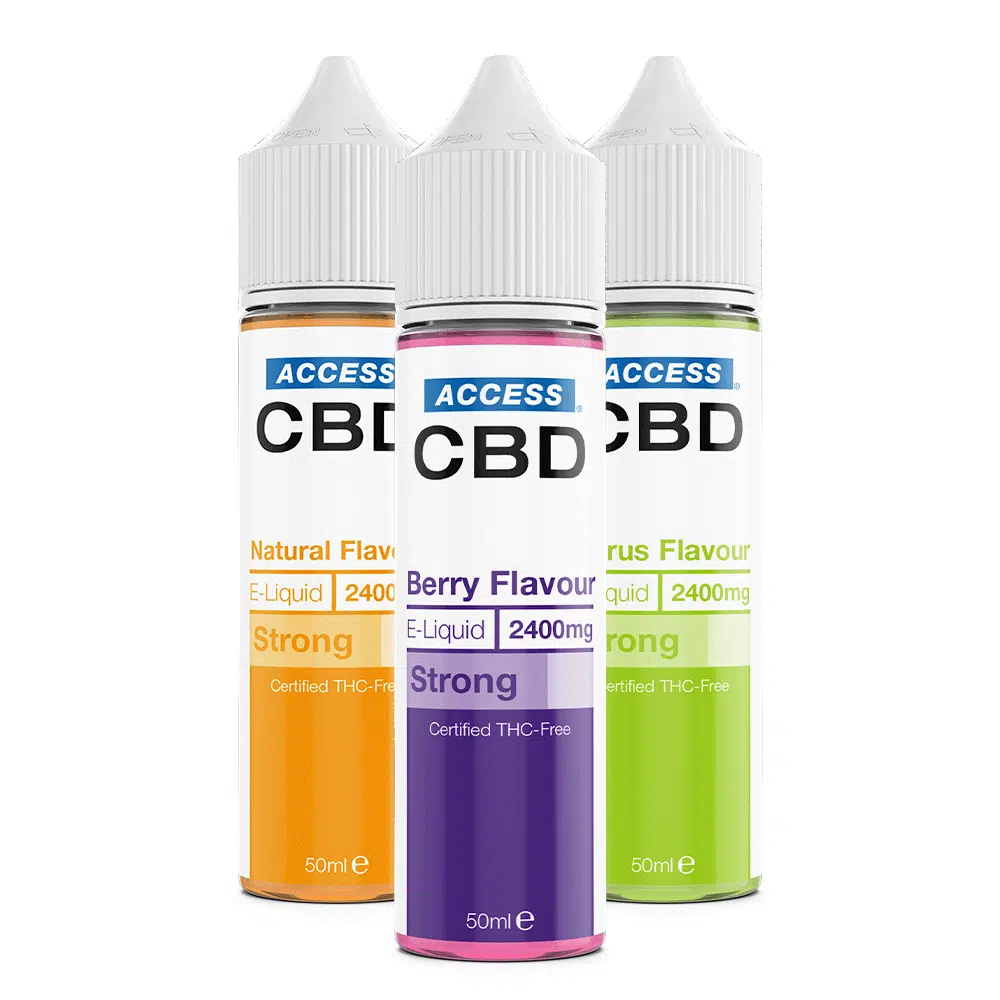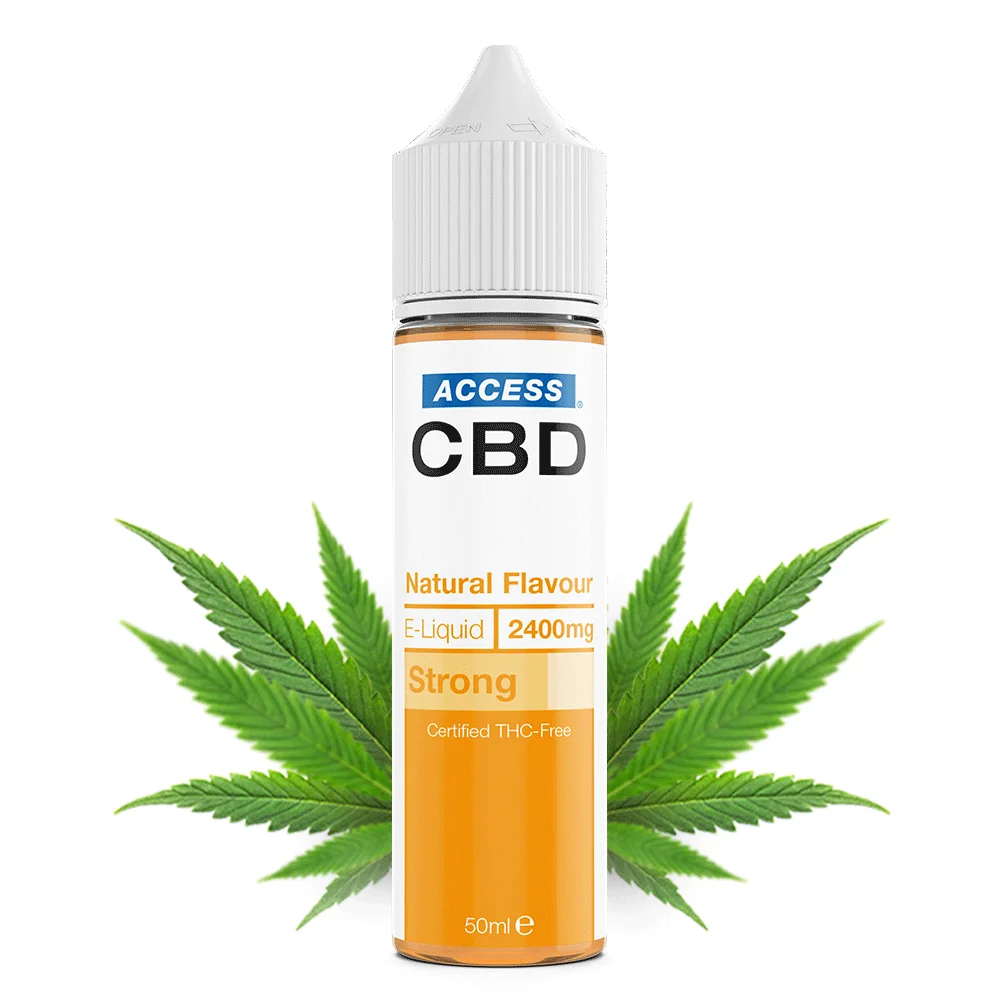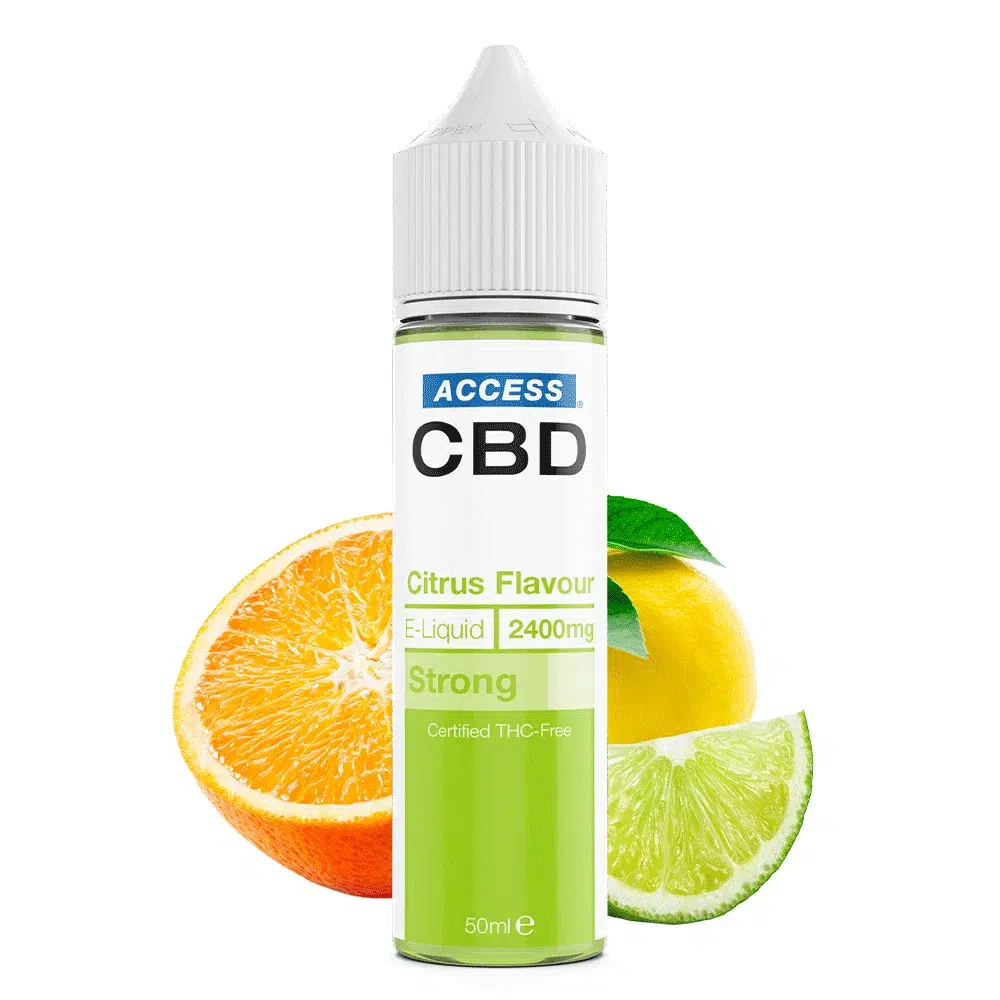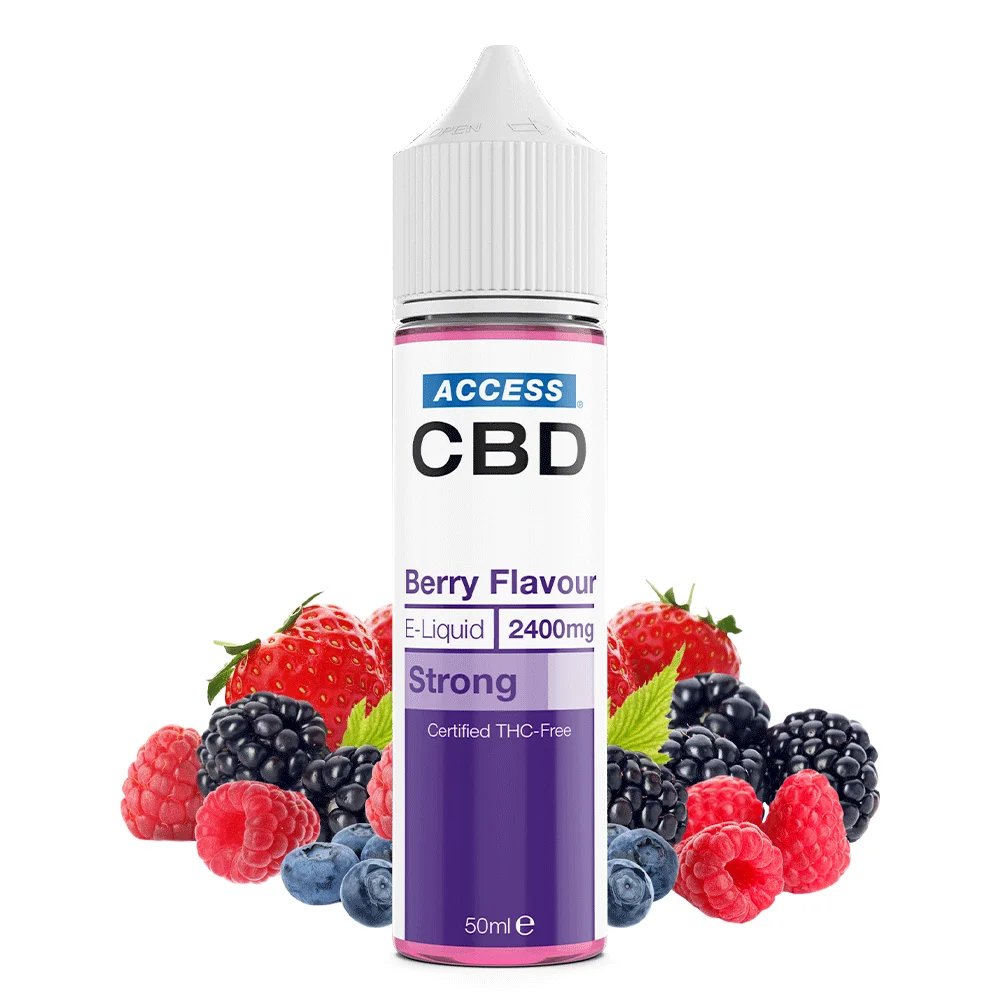 squeeze e-liquid straight into your vaping device. For CBD content per 2ml, please see below.
ACCESS CBD E-Liquid 1200mg
CBD per 2ml of vape oil = 48mg (2.4%)
ACCESS CBD E-Liquid 2400mg
CBD per 2ml of vape oil = 96mg (4.8%)
PG: 60% / VG: 40%
Mono-Propylene Glycol, Vegetable Glycerine, Cannabis sativa L. (CBD), Natural Terpenes, Flavourings, Colouring.
CBD Content per 50ml: 1200mg (2.5%) & 2400mg (4.8%)
CBD Vape Oil BUYERS GUIDE
Strongest CBD Vape Oil UK - Flavours Profiles
ACCESS CBD® Shortfill Vape Oils contain hundreds of unique cannabis compounds. This broad plant spectrum, vegan-friendly, CBD vape oil is enriched with naturally derived terpenes and cannabis phytochemicals.
Choose from two strengths in three great tasting fruity flavours, including:
🍓Berry a mix of all your favourite Summer Fruits.
🍊Citrus a refreshing tang of Orange, Lemon and Lime.
🌿Natural the original blend of nutty earth-like notes.
These smooth, THC-free CBD e liquid are suitable for most devices, however we advise checking your device prior use.
How much CBD E Liquid should I take?
CBD Oil
for vaping has no reported negative side effects, so there are no recommended dosages – providing it's coming from a reputable source. It is up to the user to figure out what dosage is right for them based on their individual needs.
To find out what level of
CBD e liquid
  is right for you, start with the lowest dosage and work your way up. You can also go for the highest strength since it's a non-harmful, non-toxic, and non-psychoactive substance. You should also be aware that your body can only absorb 200mg of CBD every 24 hours.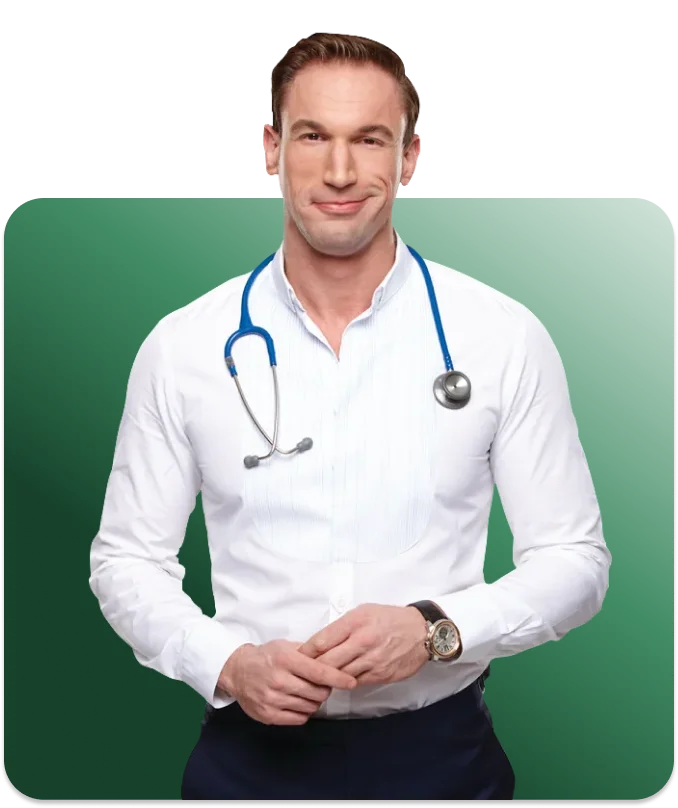 in an exclusive partnership with british cannabis™
Your CBD GUIDE with DR. Christian Jessen
Reviewed by 39 customer(s)
Fantastic sleep aids

The subtle, soothing effects of the vape oil do not jolt me into sleep but rather gently guide me into it, ensuring that the transition from wakefulness to rest is smooth and natural and I've noticed I stay asleep longer without any grogginess in the morning. It's a nightly ritual that I cherish, a moment where the stresses of the day dissolve into the soothing embrace of the vape oil, allowing me to find restful sleep with ease. Discreet packaging that allows me to integrate the vape oil into my daily routine seamlessly, whether I'm at home, at work, or on the move.

Best companion

I'd like to share a specific moment where this vape oil truly shone for me. I had a particularly challenging day at work, filled with tight deadlines and demanding clients. By mid-afternoon, i was on the verge of burning out. I took a few discreet puffs of the citrus-flavoured vape oil, and within minutes, i could feel the tension dissipating. The fact that the taste is as enjoyable as the relaxation it provides is a big win in my book. I wholeheartedly recommend it to anyone in search of a reliable and effective means of maintaining balance and tranquility in their daily lives. 

A must have product

Life's ups and downs can be quite the ride, but having this vape oil as my trusty sidekick has made all the difference. Whenever i start feeling overwhelmed, it's like a lifeline that pulls me back to a place of calm and balance. My worries simply evaporate into thin air, leaving me feeling grounded and ready to tackle whatever comes my way.. ! I started with the 1200mg strength, and it was already impressive, but when I made the move up to the 2400mg, I could feel an even greater effect. The higher potency took the relaxation and stress relief to a whole new level. If you're looking for a reliable safety harness in the rollercoaster of life, this cbd vape oil should be your go to choice!

Love it to bits!

The 2400 strength really packs a punch, making it incredibly effective at providing quick relief from stress and tension. It's perfect for those moments when you need to de-stress or find your center during a busy day. The berry flavour is a delightful choice. It's not overly sweet or artificial, which is something I appreciate. Plus, it doesn't leave a lingering aftertaste, which is a common concern with some other vape oils. I've also noticed that the effects of this vape oil are consistent and reliable. It helps me unwind and melt away tension within minutes, allowing me to regain focus and tackle my daily tasks with a clear mind. It's an essential addition to my wellness routine, and I wouldn't want to be without it.

5 starts

One of the most significant changes I've noticed is how it's improved my sleep quality. I used to struggle with occasional insomnia, tossing and turning for hours before finally falling asleep. But since vaping this vape oil into my evening routine, I've found that I drift off to sleep much more easily and stay asleep throughout the night. The flavour is subtle and not overpowering, making it enjoyable to use regularly. I hope it brings as much relaxation and relief to others as it has to me!
You might like these products too...
Get the latest articles and business updates that you need to know, you'll even get special recommendations weekly.
By submitting this form, you are giving us permission to contact you directly via email or telephone. You can opt out at any stage, and your contact data will never be shared with any 3rd party without your explicit consent. Our Privacy Policy.
Call us on
203 965 2420
and speak to one of our CBD experts. Or you can email us at
info@britishcannabis.org
or send us a message
here
.
Our CBD experts are available 9am to 5pm Monday to Thursday, 8am to 4:30pm on Fridays. Our offices are closed Bank Holidays and Weekends.