An ode to its name, this blend's intense aroma is akin to a carpark full of petrol-heads overworking the handbrake! Complimented by hints of orange zest and a lasting gassy spice.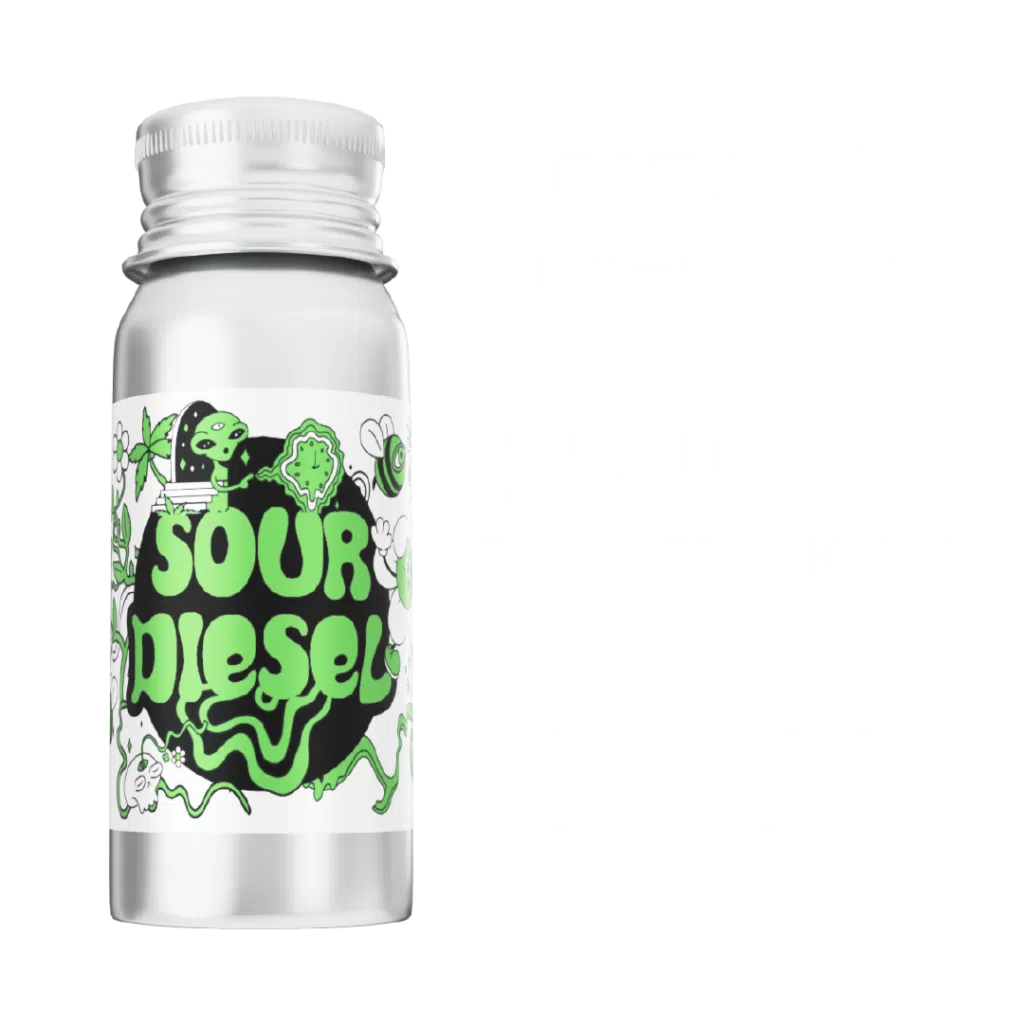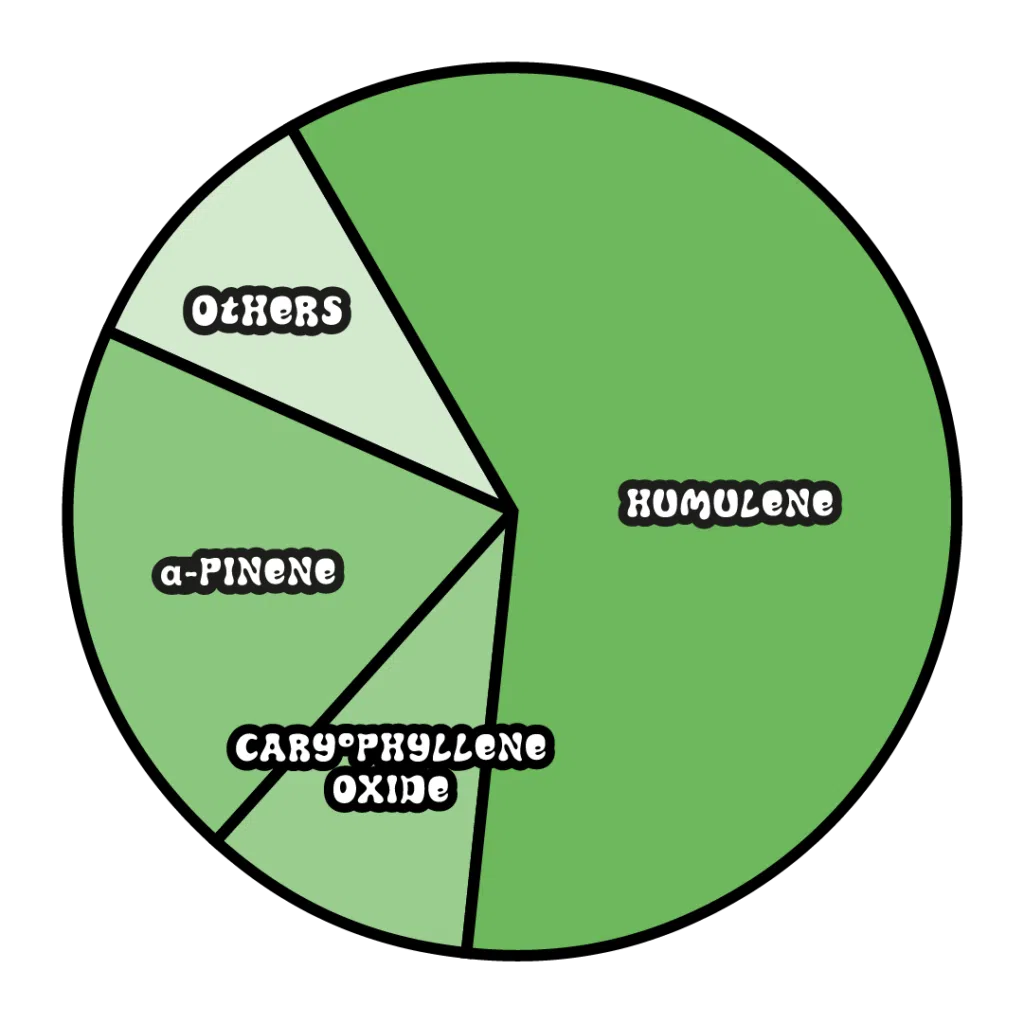 Sour Diesel Terpenes Information
Step into a realm where nature's essence and scientific precision unite, presenting BRITISH CANNABIS™'s latest terpenes collection. As a trailblazer in superior CBD offerings, we're excited to launch a range that takes your terpenes experience to unparalleled sensory levels.
Our terpenes, the fragrant molecules inherent in cannabis, are skillfully extracted to maintain the genuine essence of flavours, offering a pristine sensory voyage. Dive deep into the intricate mosaic of scents and tastes with our newest terpenes, designed to captivate your senses and amplify the comprehensive advantages of our elite CBD products.
Embark on a journey through our meticulously selected terpene profiles and uncover a fresh facet of well-being with BRITISH CANNABIS™. Your quest for unmatched terpenes quality and potency starts here.
The potency of our Sour Diesel terpenes demands careful dilution for optimal and safe usage. Use the included pipette to accurately adjust the terpene concentration.
Being oil-soluble, terpenes blend effortlessly with various oils, enriching their scent and taste. Pair with botanical extracts, coconut oil, or other carriers for a harmonious amalgamation of aromas.
Incorporate Sour Diesel terpenes into your culinary creations, adding a robust aromatic essence. As you delve into the dynamic realm of terpenes, initiate with a modest quantity, fine-tuning to align with your preferences.
BRITISH CANNABIS™ is resolute in its terpene compliance commitment. Our Sour Diesel terpenes are crafted in adherence to strict standards, guaranteeing purity and excellence.
Our UK-based scientists, renowned for their expertise, formulate these terpenes, ensuring they surpass regulatory benchmarks.
To ensure the prolonged quality of your Sour Diesel terpenes, adhere to these storage practices:
Original Packaging: Retain terpenes in their initial packaging to uphold their quality and prevent external contamination.
Tight Lid: After each use, firmly secure the lid to avert air exposure, which can diminish terpene quality.
Heat and Light Protection: Store away from heat, direct sunlight, and combustibles. Avoid direct exposure to smoking or vaping environments.
Cool and Dry: Opt for a cool, moisture-free storage area to protect terpenes from environmental changes.
UV Protection: Shield terpenes from direct UV rays to prevent degradation.
Smoke-Free Zone: Store in a non-smoking/vaping area.
Routine Checks: Regularly assess terpene quality by checking aroma and colour consistency.
Safety Precautions: Keep away from children and pets.
By following these guidelines, your Sour Diesel terpenes will consistently deliver their invigorating qualities, ready to enrich your culinary and aromatic endeavours.
The BRITISH CANNABIS™ Promise
Choose Sour Diesel terpenes by BRITISH CANNABIS™, a testament to our relentless pursuit of terpene excellence. Our dedication begins with sourcing the purest ingredients, with Sour Diesel renowned for its energizing aroma, reflecting our commitment to the terpene industry.
Introducing Terpenes by BRITISH CANNABIS™, a blend of hemp derived terpenes! The ultimate must have for cannabis enthusiasts (or ingredient thrill-seekers) in the UK! Our all-natural blend of terpenes are carefully crafted to offer a delightful and aromatic experience. Our terpenes can be used un a variety of ways, making them incredibly versatile.
Enjoy the captivating aromas and flavours guilt free. They are THC-free, ensuring compliance with legal requirements.
In the kitchen, our terpene blends serve as an unique ingredient, infusing your dishes with wonderful aromas and adding an extra layer of unexpected flavour. From savoury meals to sweet treats, these terpene blends provide a delightful twist to your culinary creations.
For those who enjoy wax liquidisers, our terpenes are ideal companions. Offering an enticing aroma and smooth affair, they enhance the overall experience of your concentrates, allowing you to fully appreciate their qualities.
Try them today and discover the endless possibilities to enhance your enjoyment.