Hempura 500mg CBD Gummies with Terpenes (50x10mg)
With the growing popularity of CBD-infused products in the UK market, it's no surprise that consumers are seeking all-natural options. Introducing Hempura's CBD Gummies – a delightful blend of fruity flavours and wellness benefits, designed to offer a convenient way to incorporate CBD into your daily routine. Each gummy contains 10mg of high-quality CBD, carefully crafted to provide you with a consistent and enjoyable experience. Hempura's CBD Gummies are meticulously formulated to be THC-free, ensuring you can indulge without any unwanted psychoactive effects.
But there's more! To enhance your sensory journey, these CBD Gummies are infused with natural terpenes, adding a burst of delicious flavour to each one. Say goodbye to saturated fats because these treats are also fat-free, making them an ideal choice for health-conscious individuals.
Hempura prioritise transparency and quality. That's why all their products undergo rigorous third-party lab testing, ensuring that you receive a trusted and reliable CBD experience. Indulge in Hempura's CBD Gummies, the perfect choice for health-conscious consumers who seek an all-natural CBD experience. Remember, always consult with your healthcare professional before incorporating any new supplements into your routine.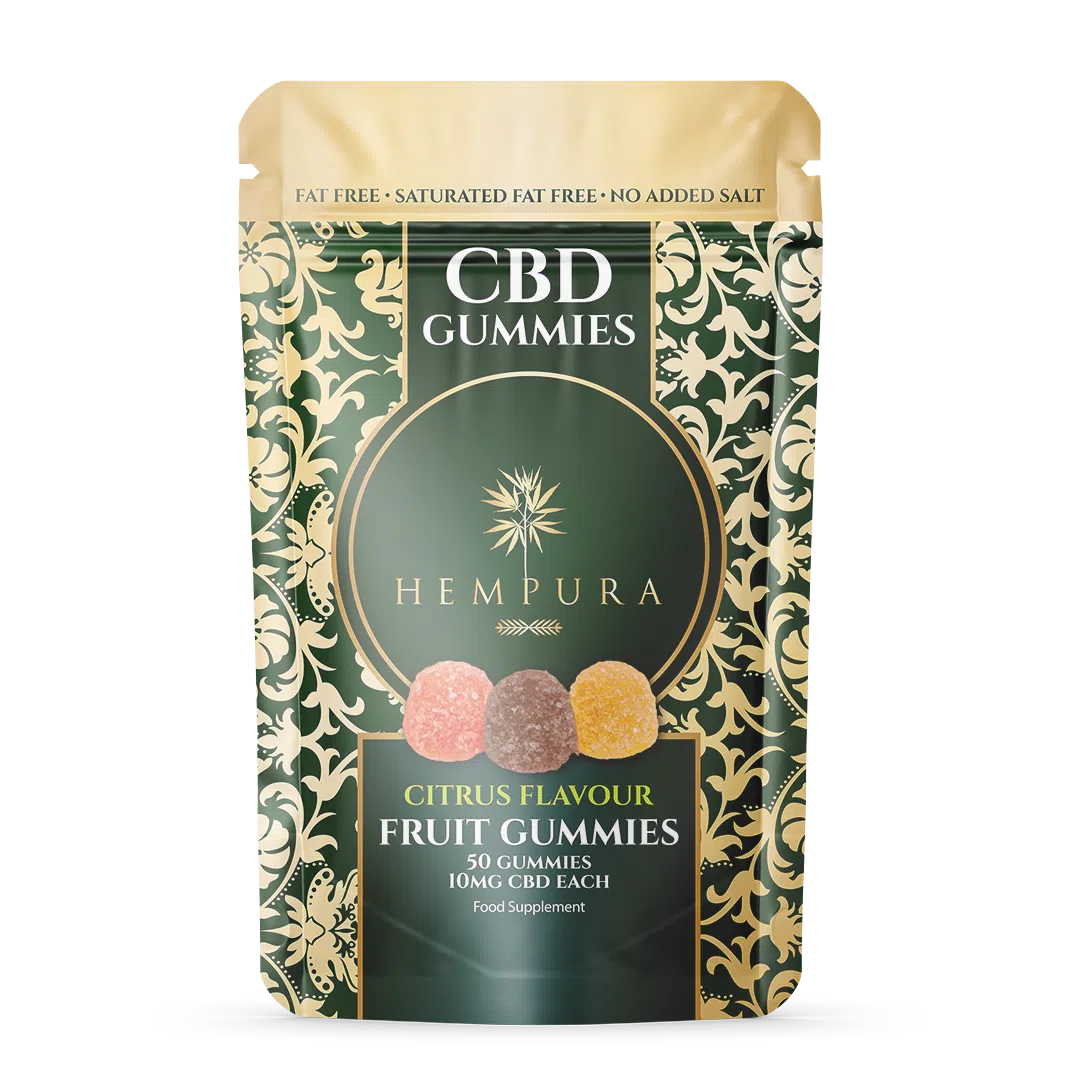 Profoundly Effective in Small Doses.
Lab Tested for Guaranteed Quality.
Hempura 500mg CBD Gummies
To start take one 10mg CBD gummy per day and gradually increase your to a maximum of 70mg CBD per day. Very high doses of CBD have no added benefit and may cause drowsiness. It is best to chew one gummy for as long as possible before swallowing.
500mg of CBD in each packet 
10mg CBD per gummy
Great tasting fruity natural flavours
50 CBD gummies per pouch
Sugar, Glucose Syrup, Maize Starch, Water, Beef Gelatine, Acid (Citric Acid), Colours (Anthocyanins, Paprika Extract, Curcumin), Flavourings (including naturally derived terpenes), Cannabidiol (CBD), Plant Concentrates (Safflower, Spirulina).
Hempura 500mg CBD Gummies Buyers Guide
In today's rapidly evolving wellness landscape, discerning consumers crave authenticity, efficacy, and transparency. They seek products that merge the virtues of nature with the promise of science. Enter Hempura's 500mg CBD Gummies—a testament to our commitment to delivering consumer-centric solutions.
Why it's the Best CBD Gummies
In a saturated market of CBD edibles, what sets Hempura's 500mg CBD Gummies apart? It's a delightful concoction of rich fruity flavours harmoniously paired with the wellness benefits of high-quality CBD. Every gummy offers a precise 10mg dose of CBD, ensuring consistency in your wellness journey. But we don't stop there. By infusing our gummies with natural terpenes, we've elevated the sensory experience, adding a delectable layer of flavour. And for those with health at the forefront of their minds, these gummies boast a fat-free composition—indulgence without the guilt.
Navigating the CBD sphere can be daunting. We're here to simplify. Our promise to you is a THC-free product. Every bite of Hempura's 500mg CBD Gummies promises an all-natural CBD experience, devoid of any psychoactive effects. Because at Hempura, we prioritize your well-being.
Powered by BRITISH CANNABIS™
Our partnership with BRITISH CANNABIS underlines our commitment to excellence. A symbol of trust, quality, and industry-leading innovation, together, we champion the cause of offering consumers like you a genuine, all-natural CBD experience. Dive into the world of Hempura's 500mg CBD Gummies, where nature's goodness meets scientific precision.
As we journey together in the world of CBD, it's paramount to tread with knowledge. Before incorporating our 500mg CBD Gummies into your regimen, consult your healthcare professional. While our gummies are meticulously crafted for your delight, it's essential to ensure they align with your unique health profile.
You might like these products too...
Get the latest articles and business updates that you need to know, you'll even get special recommendations weekly.
By submitting this form, you are giving us permission to contact you directly via email or telephone. You can opt out at any stage, and your contact data will never be shared with any 3rd party without your explicit consent. Our Privacy Policy.
Call us on
203 965 2420
and speak to one of our CBD experts. Or you can email us at
info@britishcannabis.org
or send us a message
here
.
Our CBD experts are available 9am to 5pm Monday to Thursday, 8am to 4:30pm on Fridays. Our offices are closed Bank Holidays and Weekends.