Hempura 300mg CBD Capsules with Terpenes (30)
Hempura's Premium Original CBD Capsules 300mg are a must-try CBD product that has been specially developed to offer a convenient, tasteless way to get your daily intake of CBD. With a vegan capsule exterior, these CBD capsules are easy to swallow and allow for accurate dosing on the go. Each individual capsule contains roughly 10mg of CBD for 300mg of CBD per box of capsules.
The benefits of CBD can only be achieved by preserving the original composition of the natural components found in hemp. A state-of-the-art production process allows for the preservation of hemp's beneficial terpenes, flavonoids, and phytonutrients just the way nature intended. The complex array of hemp compounds found in these CBD capsules means effects can be profound in only small amounts.
These CBD capsules contain organically grown hemp that has been ground down to a fine powder, decarboxylated and then encapsulated. The relatively unprocessed hemp material carries an extensive array of beneficial cannabis compounds, including terpenes and the all-important CBD.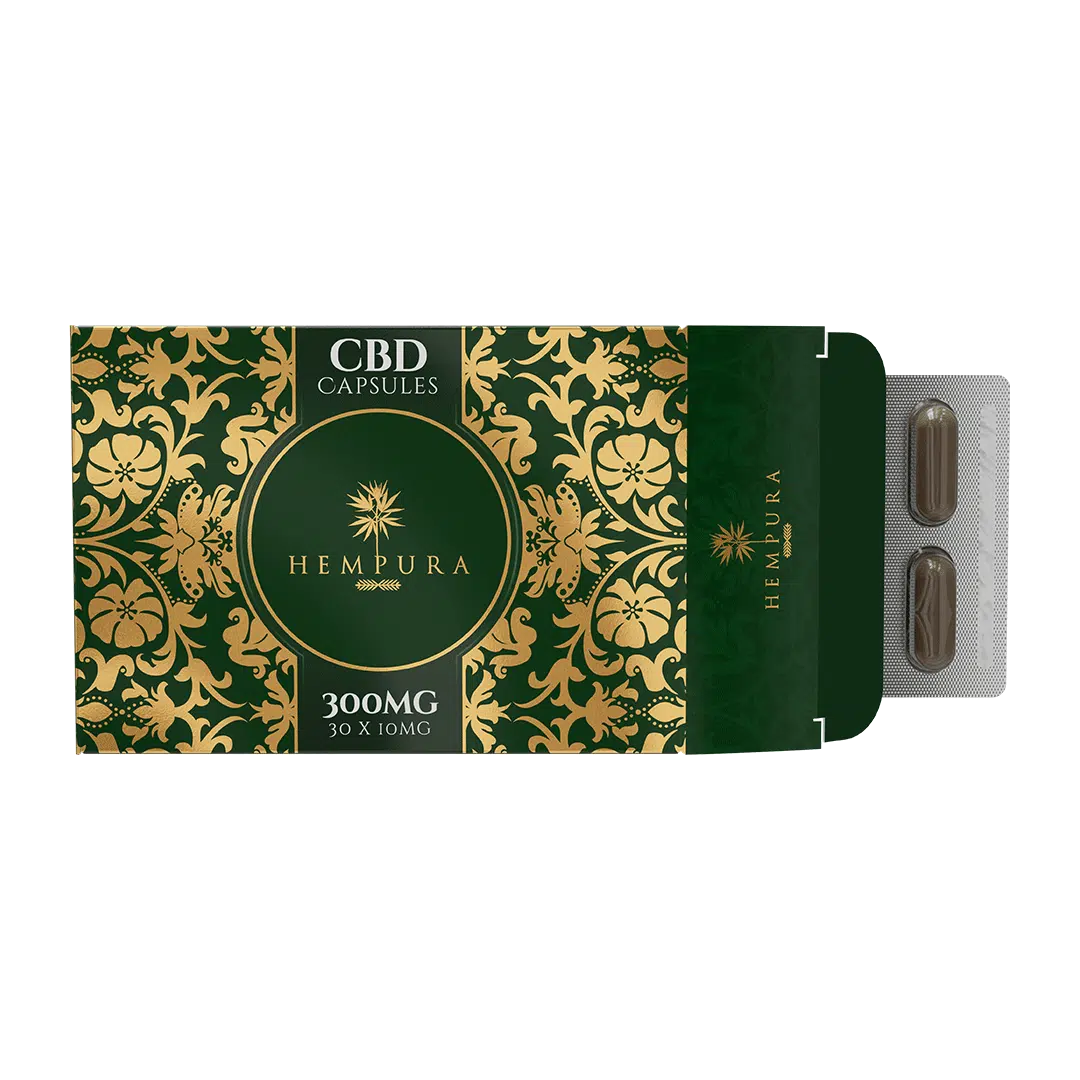 Profoundly Effective in Small Doses.
Lab Tested for Guaranteed Quality.
Hempura 300mg CBD Capsules
Start with one 10mg CBD capsule per day and build your dose up gradually, up to a maximum of 70mg CBD per day. Very high doses of CBD have no added benefit but may cause drowsiness. It is best to swallow one capsule at a time with water as needed.
300mg of CBD in each packet 
10mg CBD per capsule
Ground decarboxylated high-quality hemp
The capsule is made from HPMC – vegetarian friendly
Organically grown 100% Cannabis sativa L. (Industrial Hemp)
Vegetarian capsule: HPMC from vegetable cellulose, magnesium stearate.
Discover the Power of Hempura's 300mg CBD Capsules
In the bustling world of health and wellness, finding quality CBD products can be a maze. However, with Hempura's 300mg CBD Capsules, you no longer have to search far and wide. Offering a perfect blend of potency and convenience, these capsules stand out as a top choice for CBD enthusiasts.
Why Choose Hempura's 300mg CBD Capsules?
Pure and Natural: Each of these capsules boasts a pristine composition of natural hemp components. With organically grown hemp ground to a fine powder, you're getting nature at its best.
Rich in Terpenes and Flavonoids: The state-of-the-art production process ensures the preservation of hemp's essential terpenes, flavonoids, and phytonutrients. Experience the full range of hemp compounds in their natural state.
Convenience on the Go: These capsules are designed for the modern user. Their vegan exterior means easy swallowing, ensuring you get an accurate dose of roughly 10mg of CBD wherever you are.
Holistic Benefits: With the complex array of hemp compounds present in these 300mg CBD Capsules, even small amounts can have profound effects. It's quality and potency in every capsule.
Directions for the Best Experience
Starting with one 10mg CBD capsule daily is recommended. You can gradually increase your dose, but always ensure not to exceed 70mg CBD per day to avoid drowsiness. For optimal results, swallow each capsule with water.
Hempura's 300mg CBD Capsules are crafted from 100% Cannabis sativa L. (Industrial Hemp) that's organically grown. The vegetarian-friendly capsule, made from HPMC and magnesium stearate, is proof of our commitment to natural wellness.
When it comes to genuine, effective CBD products, Hempura's 300mg CBD Capsules rise to the occasion. It's a blend of nature's best in a convenient package. Dive into the world of CBD with a product that promises and delivers. Order yours today and feel the difference!
You might like these products too...
Get the latest articles and business updates that you need to know, you'll even get special recommendations weekly.
By submitting this form, you are giving us permission to contact you directly via email or telephone. You can opt out at any stage, and your contact data will never be shared with any 3rd party without your explicit consent. Our Privacy Policy.
Call us on
203 965 2420
and speak to one of our CBD experts. Or you can email us at
info@britishcannabis.org
or send us a message
here
.
Our CBD experts are available 9am to 5pm Monday to Thursday, 8am to 4:30pm on Fridays. Our offices are closed Bank Holidays and Weekends.