These Cannabis CBDa Capsules provide an easy-to-take, single dose CBDa supplement made with 100% EU approved Cannabis sativa L.
If you're looking for a quick and easy method of taking CBDa then this is a great product for you. In addition to this, if you tend to have a sensitive sense of smell and taste these capsules offer an alternative method of taking CBD without the earthy taste and smell of the CBD oil.
Each packet of CBD by BRITISH CANNABIS™ Cannabis CBDa Capsules contain 300mg (10mg per CBDa capsule) of the ingredient Cannabidiolic acid (CBDa). Designed cbd tablets (CBDa) to be swallowed orally, this product pairs perfectly with our Canabidol™ Cannabis CBD Oil.
We have all heard of the notorious CBD, but did you know that CBD has a precursor called Cannabidiolic Acid (CBDa). CBDa is the compound you would mostly find in fresh hemp (the raw hemp if you like).
CBD is an outcome of decarboxylation. This process of heating raw hemp (containing CBDa), resulting in the removal of the carboxyl group, and so CBDa becomes CBD.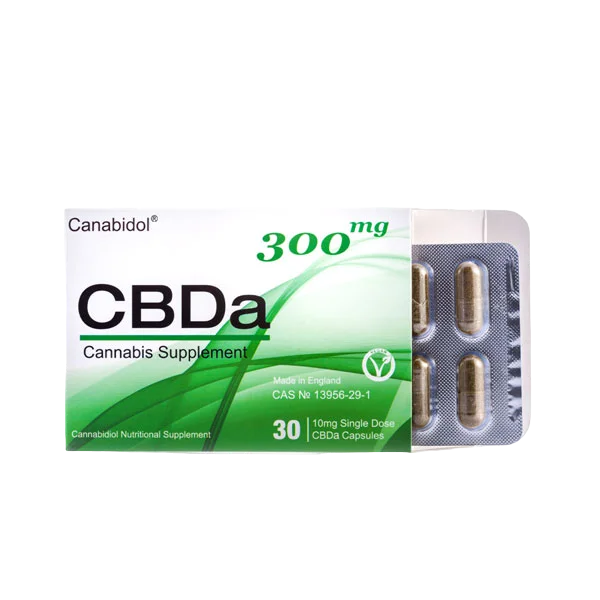 Every batch is quality tested for purity and contaminants.
CBD By BRITISH CANNABIS™ CBDa Capsules
CBD CAPSULES BUYERS GUIDE
CBDa is a different compound to CBD, research suggests it effects the body differently to CBD. Reacting differently to the body's complex network of receptor sites, also known as you endocannabinoid system.
What are the benefits of CBDa capsules?
Several beneficial properties of cannabidiolic acid are found in cannabinoids. When CBDa interacts with the body's endocannabinoid system, balance and optimal functioning are achieved. Many bodily functions are positively affected by this, including appetite, metabolism, immunity, sleep quality, and more.
Studies suggest CBDa has anti-inflammatory properties similar to those of other cannabinoids, but without the side effects of pharmaceutical NSAIDs.
CBDa exerts many of its beneficial effects due to its strong interaction with the brain's serotonin receptors, suggesting that it could more effective than CBD for certain conditions, such as seizures and depression.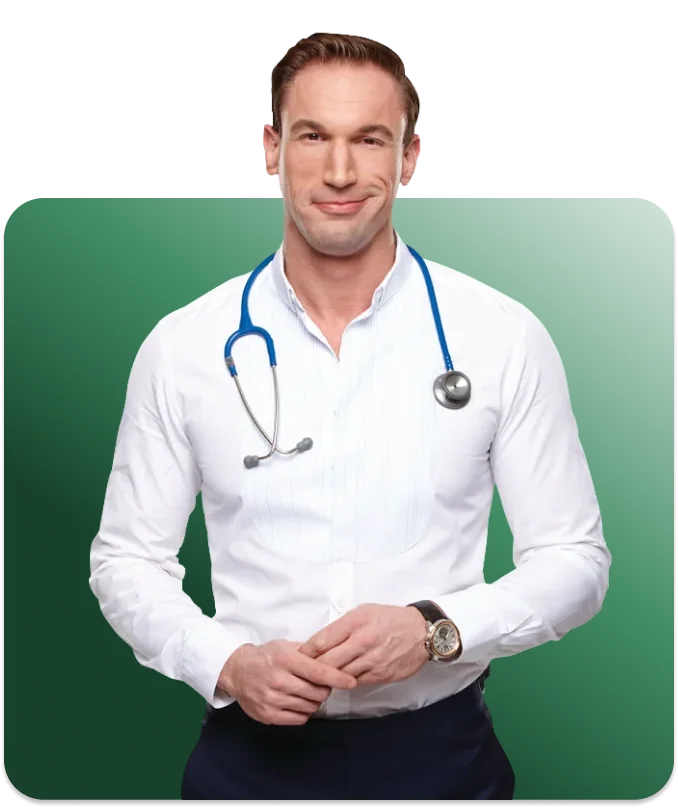 in an exclusive partnership with british cannabis™
Your CBD GUIDE with DR. Christian Jessen
Reviewed by 20 customer(s)
Works wonders!

They worked for me. The results were truly remarkable, providing the desired benefits and effectively addressing my concerns. They've consistently delivered the relief I was hoping for, making a noticeable difference in how I feel and function. Been one the most pleasant ones for me.

Pleasantly Surprised!

I was pleasantly surprised by these capsules. The taste was delightful, and they provided a satisfactory experience. However, I expected the results to be a bit more impressive. Nonetheless, they still delivered a decent outcome, promoting a sense of balance and well-being.

Nourish and Unwind

These capsules not only nourished my body but also helped me unwind from daily stresses. The taste was satisfying, and the results were highly satisfying too. I felt rejuvenated and restored, making these capsules a vital part of my wellness routine.

Good benefits!

I was pleasantly surprised by the unexpected benefits these capsules offered. They effectively addressed my needs and provided satisfying results. From improved sleep quality to enhanced focus during the day, these capsules seem to have a positive ripple effect on various aspects of my life. 

The Calming Companion

These capsules proved to be a comforting companion in my quest for relaxation. The taste was satisfying, but I found the results to be average. They provided a calming effect, helping me unwind after a long day, although I expected a bit more from them.
You might like these products too...
Get the latest articles and business updates that you need to know, you'll even get special recommendations weekly.
By submitting this form, you are giving us permission to contact you directly via email or telephone. You can opt out at any stage, and your contact data will never be shared with any 3rd party without your explicit consent. Our Privacy Policy.
Call us on
203 965 2420
and speak to one of our CBD experts. Or you can email us at
info@britishcannabis.org
or send us a message
here
.
Our CBD experts are available 9am to 5pm Monday to Thursday, 8am to 4:30pm on Fridays. Our offices are closed Bank Holidays and Weekends.