Hempura Original CBD Oil with Terpenes (10ml)
Introducing Hempura CBD Oil – the luxurious, natural choice for CBD users. Our Original CBD Oils are derived from a rich hemp extract and contains hemp plant compounds, including CBD, terpenes, flavonoids, and phytonutrients. Made with gentle extraction methods and skillful manufacturing, our oil preserves the natural array of beneficial compounds found in hemp.
In addition to being rich in naturally extracted hemp compounds, our CBD oil is free of heavy metals, solvents, artificial additives, flavours, or colours. This means that our best-selling Original CBD Oil can deliver profound effects in only small amounts.
Hempura, are committed to quality. Their CBD oils are lab-tested for purity and safety at multiple points during manufacture, so you can trust that you're getting the very best. Don't settle for less – try Hempura CBD oil today and experience the benefits of natural, high-quality CBD.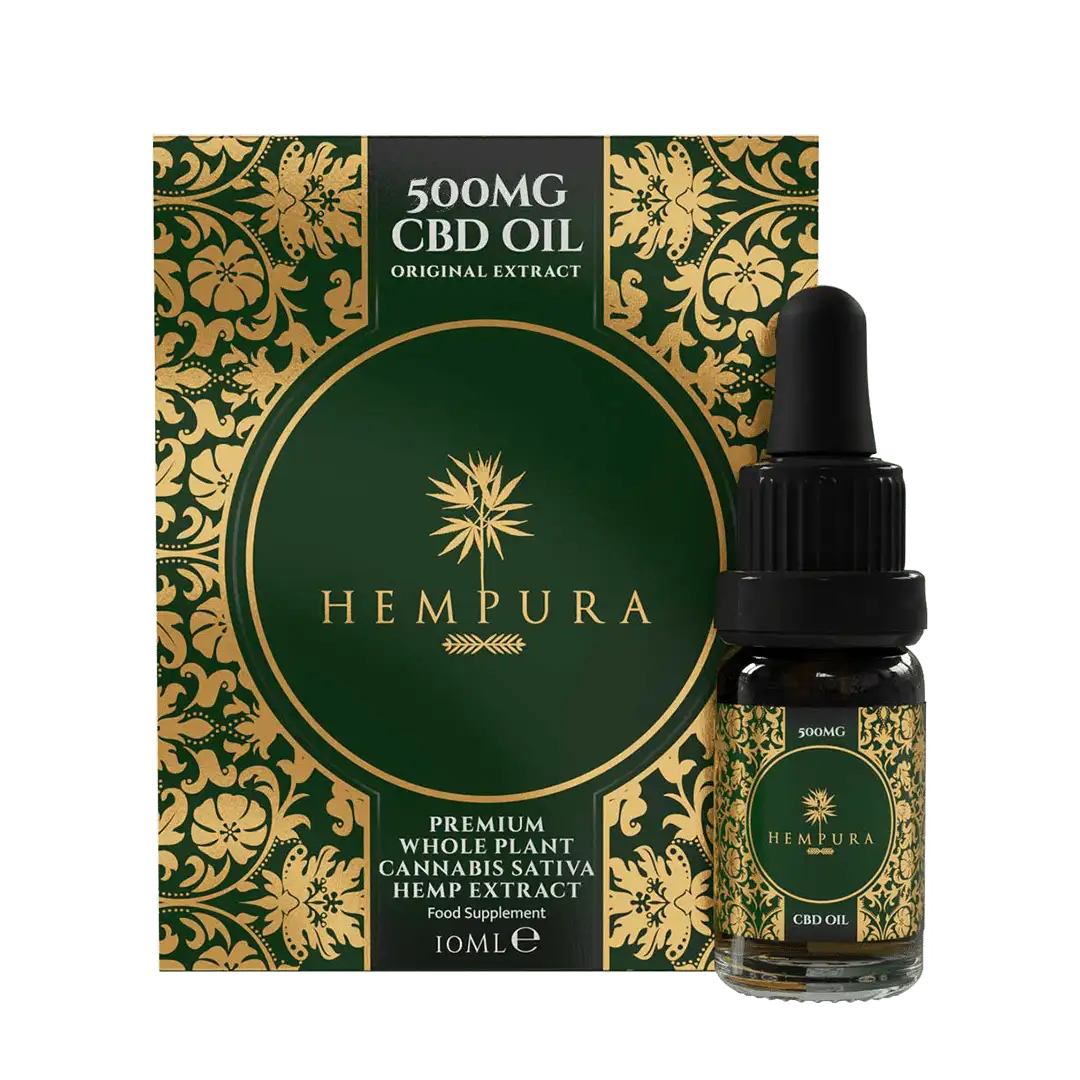 Profoundly Effective in Small Amounts.
Lab Tested for Guaranteed Quality.
Hempura Original CBD Oil with Terpenes
Place the CBD oil beneath the tongue for up to 90 seconds before swallowing. Do not exceed more than 70mg per day.
250mg Original CBD Oil:
1.25mg CBD per drop (~200 drops per bottle)
500mg Original CBD Oil:
2.5mg CBD per drop (~200 drops per bottle)
1000mg Original CBD Oil:
5mg CBD per drop (~200 drops per bottle)
Natural hemp-extracted CBD, food-grade hemp seed oil.
CBD Oil with Terpenes: Hempura's Natural Approach
The wellness industry is saturated with a myriad of CBD products, but few can hold a candle to the potency and purity of CBD Oil with Terpenes. At the helm of this natural movement is Hempura, a brand underpinned by an unwavering commitment to quality and authenticity. Here's an in-depth exploration of Hempura's premium CBD oil, infused with the synergistic magic of terpenes.
Why CBD Oil with Terpenes Stands Out
CBD oils have saturated the market, but Hempura's blend, enriched with terpenes, is in a league of its own. Terpenes are aromatic compounds present in the hemp plant, and when combined with CBD, they synergize to produce the "entourage effect". This powerful duo amplifies the therapeutic potential of CBD, delivering an unmatched wellness experience.
Hempura's Commitment to Quality
What makes Hempura's CBD Oil with Terpenes a market leader is its unwavering dedication to natural quality. With gentle extraction processes, Hempura retains a plethora of compounds – CBD, flavonoids, phytonutrients, and crucially, terpenes. This attention to detail ensures every bottle is devoid of heavy metals, solvents, and unnecessary additives.
Hempura stands out not only for its premium products but also for its commitment to industry regulations. Every product aligns with legal requirements, ensuring safety, authenticity, and the highest quality. Users can partake confidently, knowing they're in compliant hands.
What is the Best Strength for Me?
Navigating the world of CBD dosages can be overwhelming, but Hempura simplifies the process:
250mg Original CBD Oil: Ideal for beginners or those wanting a subtle experience. At 1.25mg CBD per drop, it's a gentle introduction to the world of CBD.
500mg Original CBD Oil: This mid-range dosage offers 2.5mg of CBD per drop. Perfect for those familiar with CBD and looking to up the ante on their daily dosage.
1000mg Original CBD Oil: For the seasoned CBD user, this provides a robust 5mg CBD per drop, ensuring a potent and invigorating experience.
Powered by BRITISH CANNABIS
Underpinning Hempura's excellence is its alliance with BRITISH CANNABIS, the UK's leading producer of CBD products. This partnership guarantees that the CBD oil is backed by extensive research, innovation, and an unwavering commitment to quality.
Lab-Tested for Your Peace of Mind
Every bottle of Hempura's CBD Oil with Terpenes undergoes stringent lab testing at multiple production stages. These tests, which certify purity, safety, and consistency, ensure consumers get the gold standard in CBD oil with every purchase.
You might like these products too...
Get the latest articles and business updates that you need to know, you'll even get special recommendations weekly.
By submitting this form, you are giving us permission to contact you directly via email or telephone. You can opt out at any stage, and your contact data will never be shared with any 3rd party without your explicit consent. Our Privacy Policy.
Call us on
203 965 2420
and speak to one of our CBD experts. Or you can email us at
info@britishcannabis.org
or send us a message
here
.
Our CBD experts are available 9am to 5pm Monday to Thursday, 8am to 4:30pm on Fridays. Our offices are closed Bank Holidays and Weekends.