Level-up your training with our 100% natural CBD oil. Available in both 'RAW' and 'REFINED' cannabis oil formulas, each made with our premium broad plant spectrum extract and in-house terpene blend. Gain more out of every workout with GAIN CBD.
What does CBD do in the body? Your body has multiple cannabinoid receptors which affect your overall wellbeing and recovery. By supplementing GAIN CBD daily, you could see an improvement in your overall performance; both mentally and physically.
GAIN CBD RAW and REFINED formulas deliver lab tested quality CBD and unique plant derived phytochemicals that help support your daily health and wellbeing needs.
Depending on your flavour approach, you may prefer our REFINED smoother tasting CBD oil which reveals a light nutty flavour. Or if your style is more rough and ready, you may prefer the strong earthy flavours replicated in our RAW formula.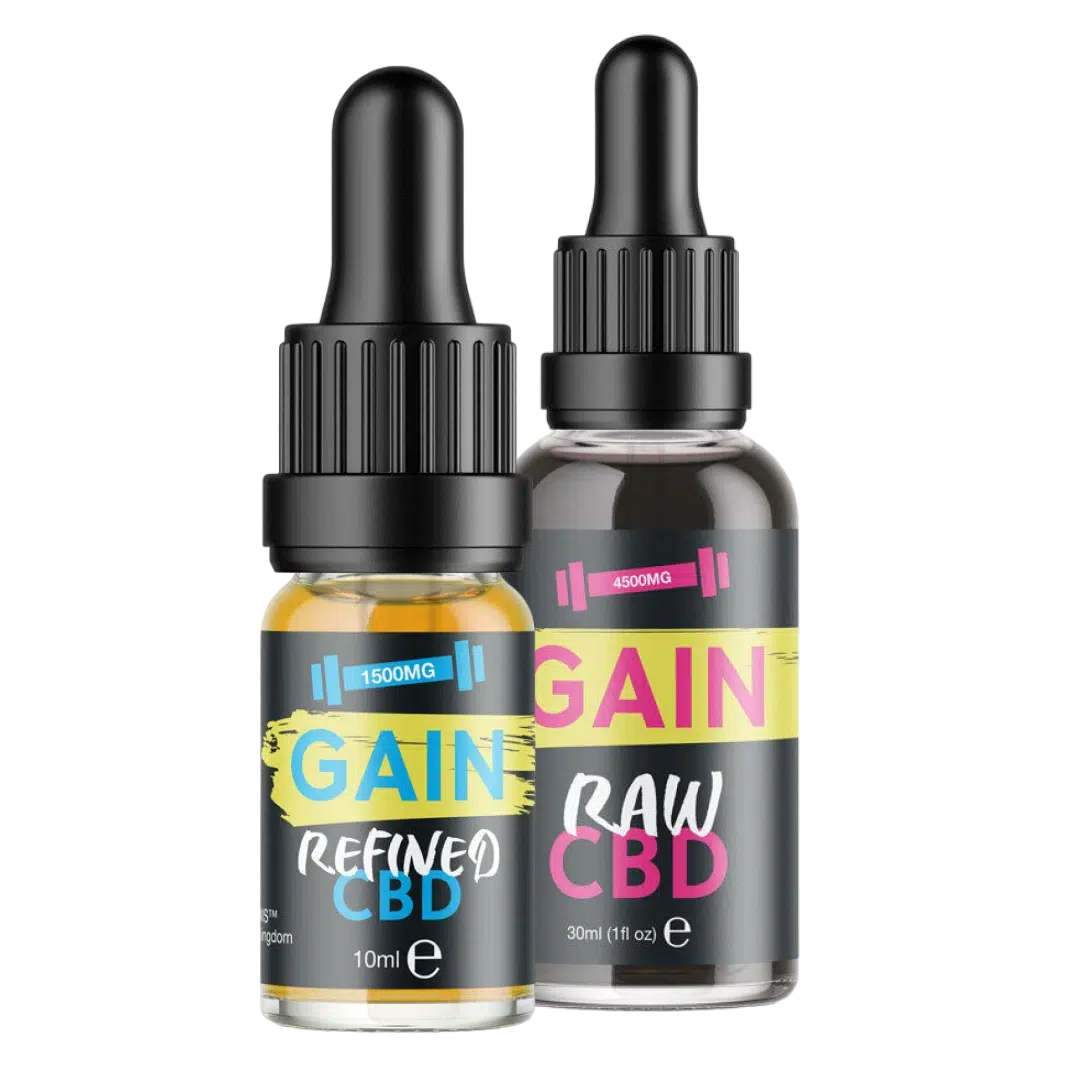 Every batch is quality tested for purity and contaminants.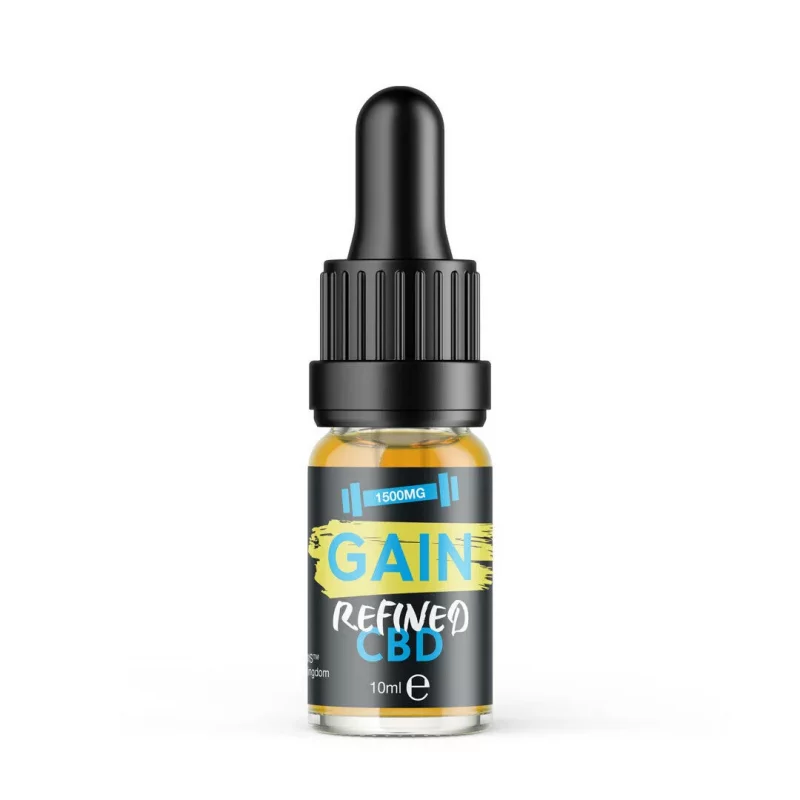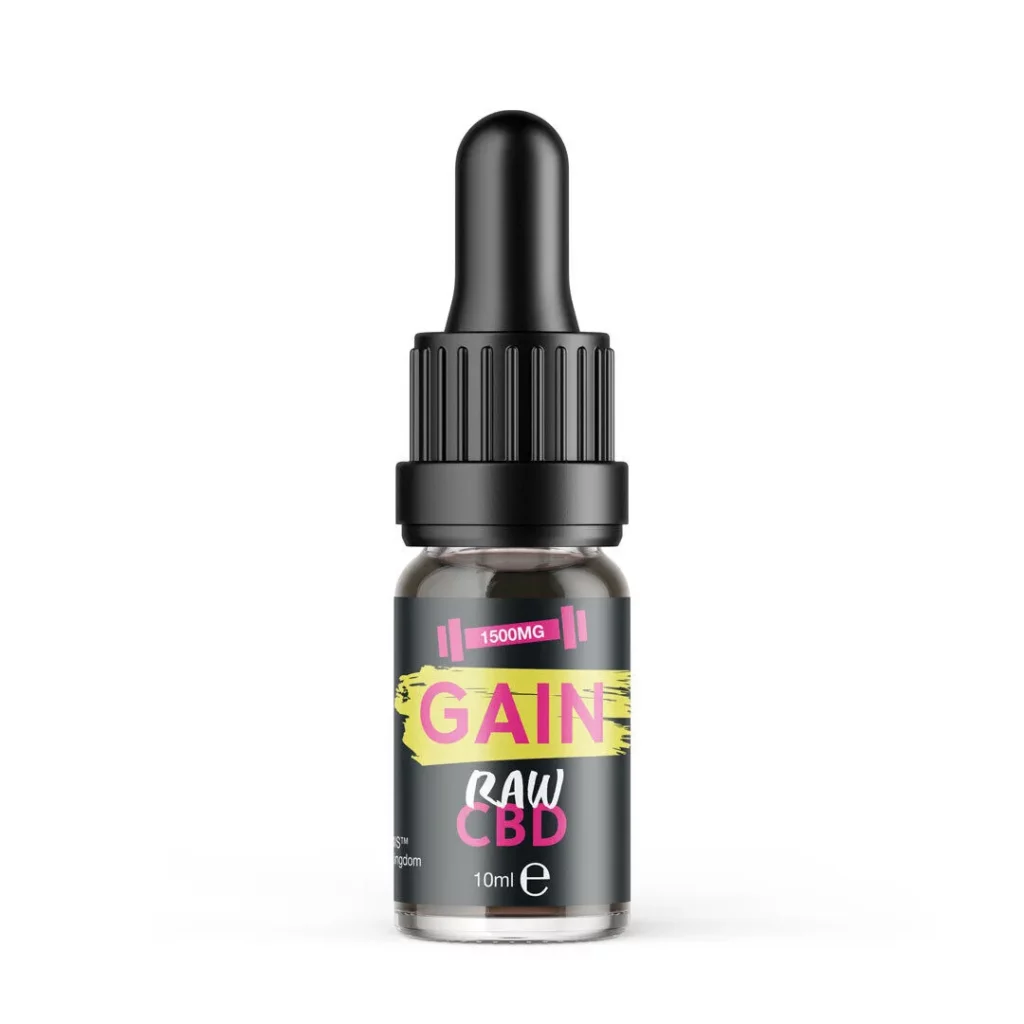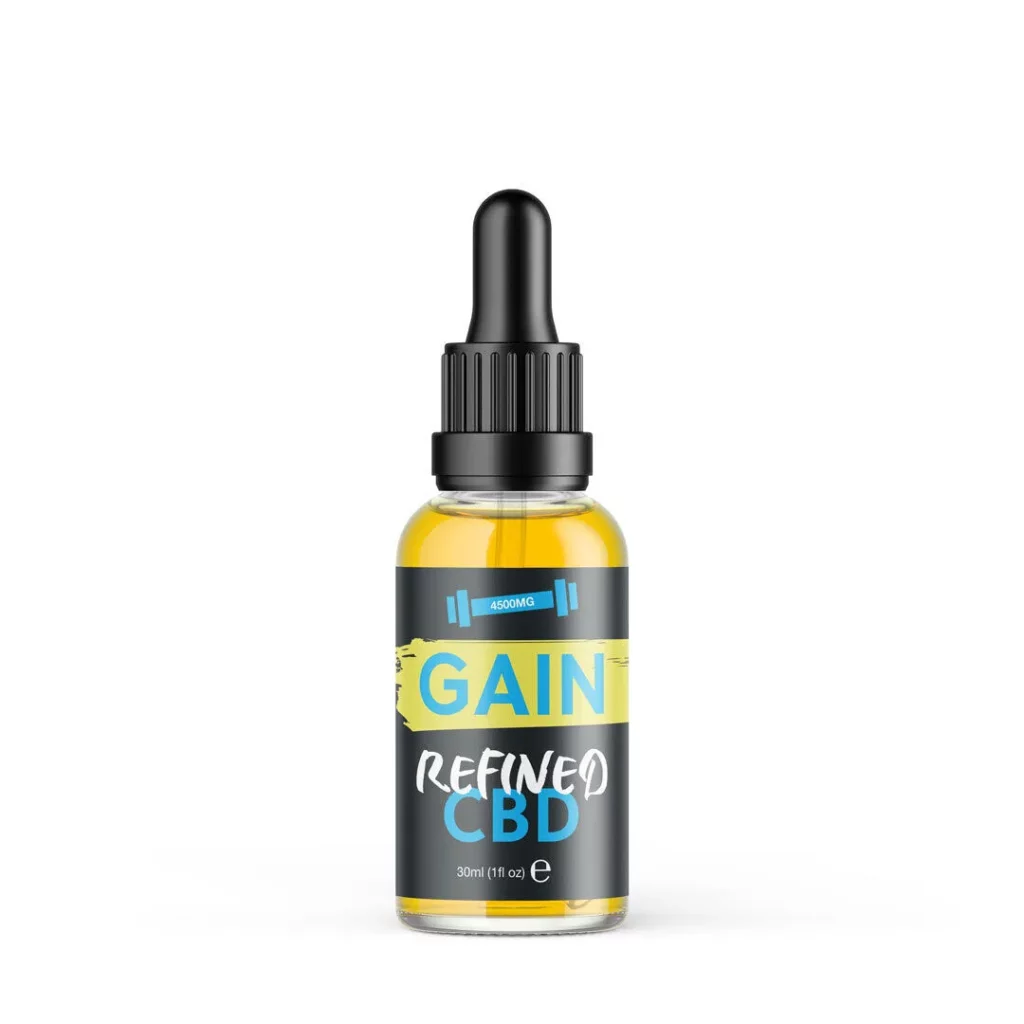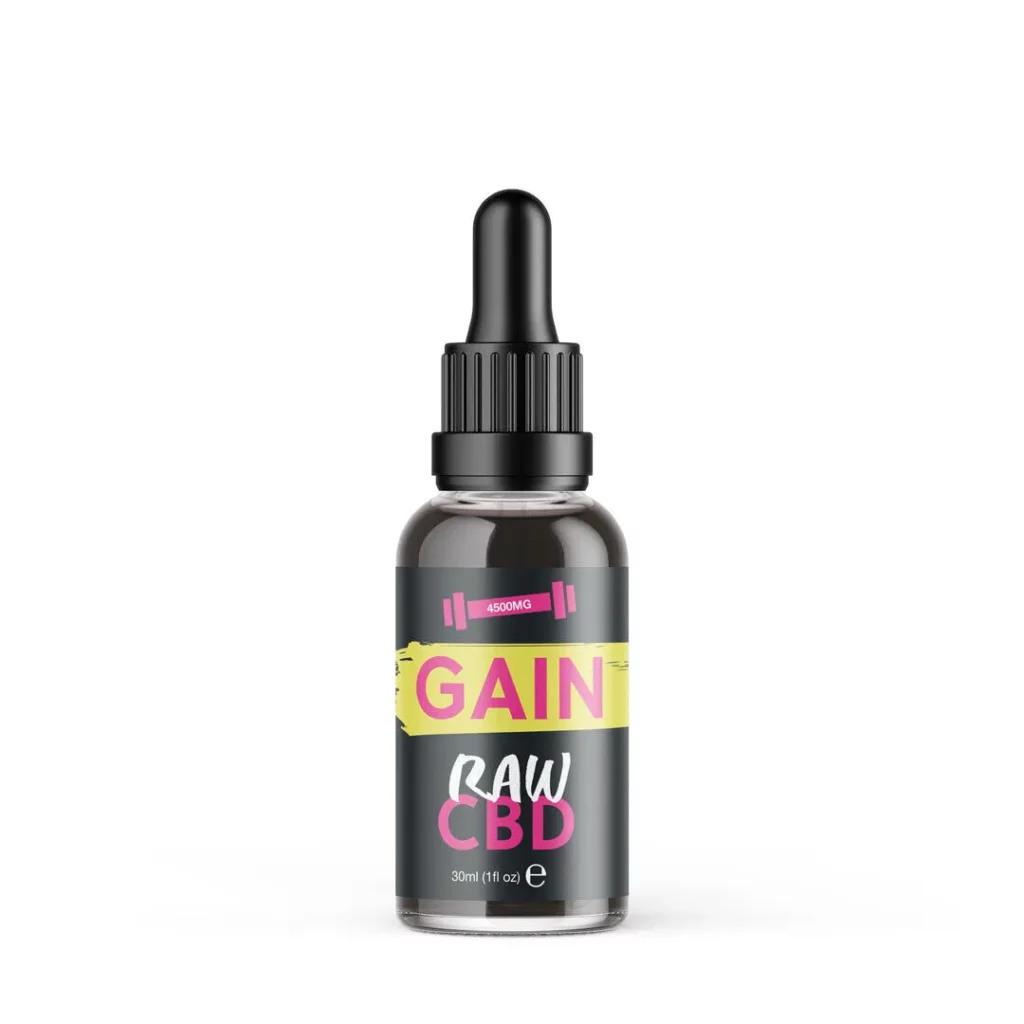 For best results: Morning, evening, or within an hour of training use the pipette provided to drop the oil under your tongue and hold for approximately 1-2 minutes or until full absorbed. GAIN CBD comes in a handy trial-size pack, but with 1500mg of natural CBD and tons of plant power! Or our heavyweight 4500mg CBD strength per bottle – so you can get the maximum daily recommended allowance in only half a pipette.
CBD per 0.25ml: 37.5mg
CBD per bottle: 1500mg / 4500mg
CBD is a pretty versatile supplement, why not add a couple of drops into your post-workout shake?
Ingredients: Cannabis sativa L. (98%), Natural Terpene Flavourings (Humulene, a-Pinene, Caryophyllene Oxide, ß-Caryophyllene, ß-Pinene, Myrcene, Limonene, Linalool, Terpinolene).
When buying Gain CBD, you can rest assured knowing that your oil is consistent, compliant and manufactured to the highest of standards. Our products are produced by highly skilled cannabis scientists in our very own laboratories based here in the United Kingdom and are officially packed within our state-of-the-art Clean room.
At British Cannabis we spent time and effort in researching and developing CBD, to bring you the very best CBD food supplements!
What Strength is Best for Me?
Gain CBD Oils is available in two formulas raw, refined and two strengths; 1500mg, 4500mg. If you are new to CBD, we always suggest starting with the lowest CBD mg amount and working your way up depending on how your body responds. Listening to your body's intuition is key!
Each bottle is equipped with an individual QR code that enables you to access full regulatory compliance documentation, lab reports and a video of your bottle making its way off the production line in our state-of-the-art Cleanroom.
Simply hover your phone's camera over the QR code and a notification will appear, tap on this notification, enter your batch code located on the side of your bottle to reveal a full breakdown of your CBD oil.
For the latest up-to-date information on compliance surrounding CBD, click here to visit the FSA's (Food Standards Agency) advice on CBD. This CBD cannabis oil is sold as a food supplement and is not intended to diagnose, treat or cure any disease – see MHRA's guide to what is a medical product.
Order before 2pm and receive free UK next working day delivery when you spend £20 or more. Once your order has been placed you will be sent updates on your ACCESS CBD® delivery. Door-to-door tracking and unbeatable CBD prices. What's not to love?
*Order must be placed before 2pm. Excludes bank holidays.
Keep out of reach of children. This product is not intended to treat any medical condition. Use at your own risk. Not suitable for pregnant or breastfeeding women. Do not exceed 70mg of CBD per day. Store in original packaging and keep out of direct sunlight. You must be over 18 to use this product.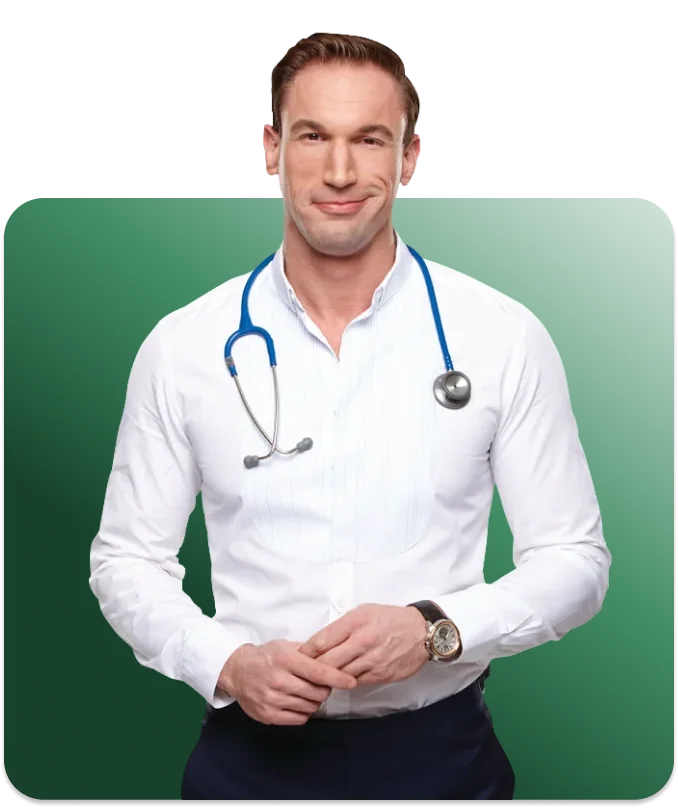 in an exclusive partnership with british cannabis™
Your CBD GUIDE with DR. Christian Jessen
There are no reviews yet.
You might like these products too...
Get the latest articles and business updates that you need to know, you'll even get special recommendations weekly.
By submitting this form, you are giving us permission to contact you directly via email or telephone. You can opt out at any stage, and your contact data will never be shared with any 3rd party without your explicit consent. Our Privacy Policy.
Call us on
203 965 2420
and speak to one of our CBD experts. Or you can email us at
info@britishcannabis.org
or send us a message
here
.
Our CBD experts are available 9am to 5pm Monday to Thursday, 8am to 4:30pm on Fridays. Our offices are closed Bank Holidays and Weekends.