Unlock the secret to dewy, ultra-smooth, and glowing skin with our revolutionary formula, crafted to be the final step in your skincare routine. Our carefully curated blend of all natural ingredients work in harmony to lock in hydration, leaving your skin plump, fresh, and rejuvenated. With added Rose Hip Oil and Vitamin E.
ElixinolSkin is a signature premium CBD skincare UK range delivering unparalleled results for your complexion. Powered by peptides, our CBD-centric, botanical rich fusions address skin concerns multi-functionally and effectively. Gift your skin the multitude of benefits in Phytonutrient application with organically grown, broad-plant hemp extract in each use.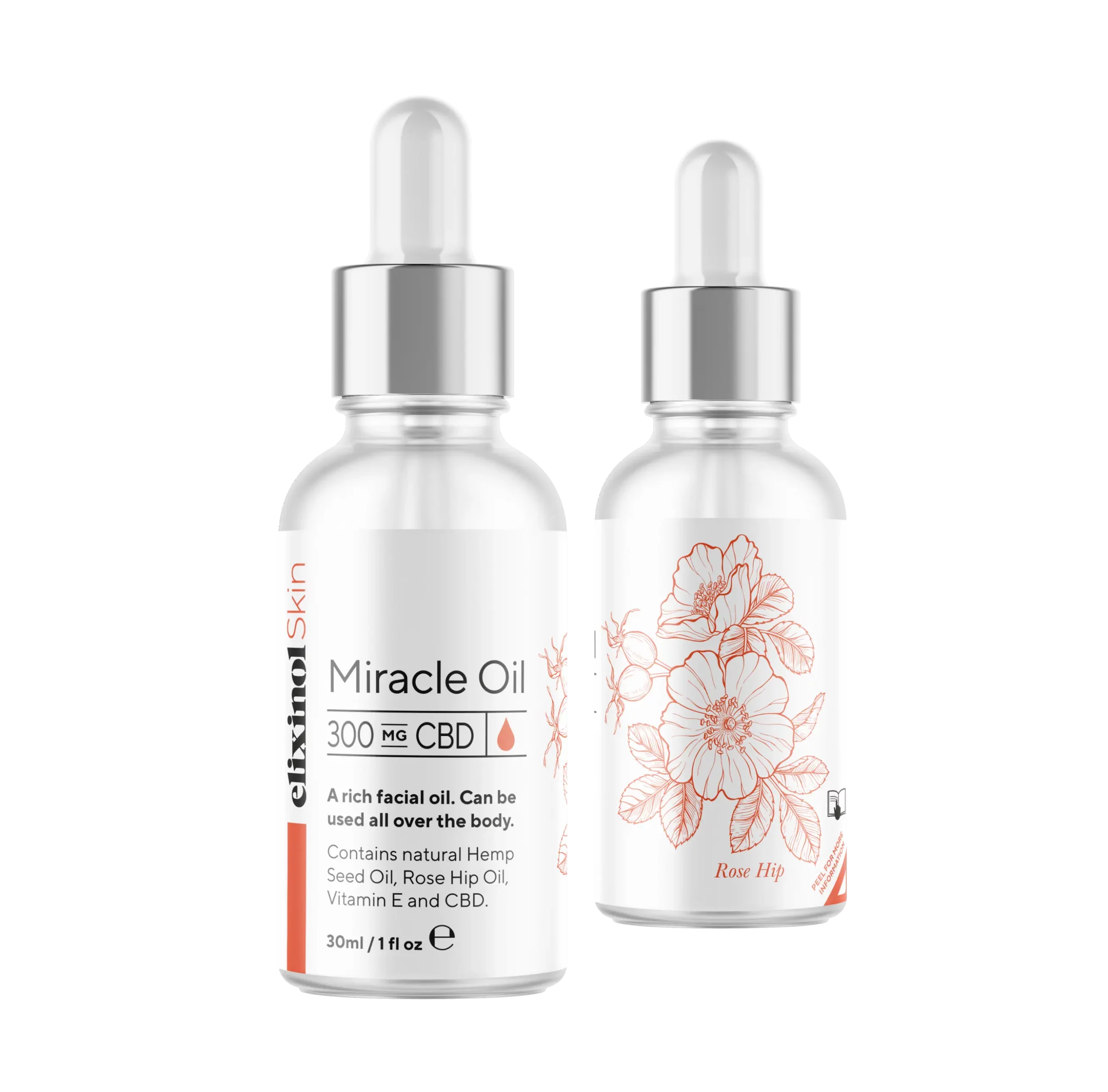 Every batch is quality tested for purity and contaminants.
ElixinolSkin CBD Miracle Oil contain 75mg CBD Full Spectrum
Apply 3-5 drops in the morning and
evening
to the face and neck. For best results, apply daily.  
Cannabis Sativa Seed Oil, Vitis Vinifera Seed Oil, Rosa Canina Seed Oil, Tocopherol,
Cannabis sativa
L. Extract (CBD), Parfum, Terpene Blend.
CBD SKINCARE BUYERS GUIDE
Unlock the secret to dewy, ultra-smooth, and glowing skin with our revolutionary formula, crafted to be the final step in your skincare routine. Our carefully curated blend of ingredients work in harmony to lock in hydration, leaving your skin plump, fresh, and rejuvenated. 
CBD has diverse applications and binds to endogenous receptors which mediate inflammation. Engaging these receptors is  made possible through topical absorption which ideally undergoes metabolic passage through the skin. Because of its  inherent, versatile nature CBD is suitable for a wide-range of skin types including problematic or "confused" skin, reactive skin considering its calming properties, and ageing skin with luminous benefits for a youthful glow.
Every product is equipped with an individual batch code that enables you to access lab reports detailing the cannabinoid content of your product.
Simply look up your 7-digit batch code here.
Order before 2pm and receive free UK next working day delivery when you spend £20 or more. Once your order has been placed you will be sent updates on your delivery.
Door-to-door tracking and unbeatable CBD prices. What's not to love?
Next day delivery excludes UK bank holidays.
For external use only. Avoid contact with eyes. Do not apply to broken or irritated skin. If skin sensitivity occurs, discontinue use. Not suitable to use if you are pregnant or breastfeeding. This product is not intended to diagnose, treat, cure, or prevent any disease. Store in original packaging.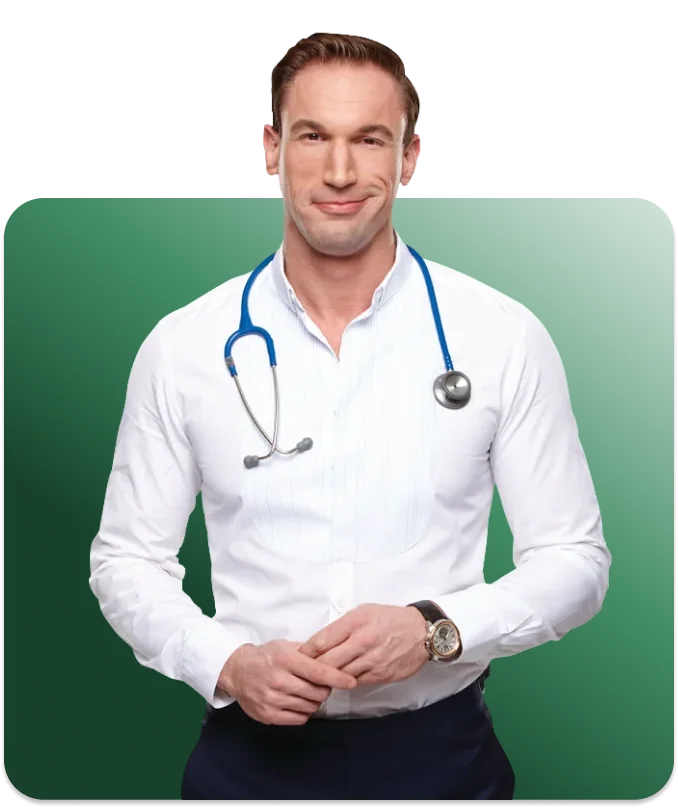 in an exclusive partnership with british cannabis™
Your CBD Guide with Dr. Christian Jessen
Reviewed by 32 customer(s)
A solution for dry skin

I no longer have to worry about dry patches or the discomfort that comes with parched skin. What's more, the added benefit of smoother, more youthful-looking skin has made it an indispensable part of my daily routine. The miracle oil has not only met but exceeded my expectations, and I can confidently say that it's a must-have for anyone with dry skin seeking a solution that delivers visible results. Navigating their website was a breeze, and the purchasing process was incredibly smooth, further enhancing my overall experience.

CBD Miracle Oil

It's incredible how a product can transform not only your skin but your entire outlook on yourself. What sets this product apart is its natural and sustainable ingredients. Knowing that I'm not only taking care of my skin but also making eco-conscious choices makes me appreciate it even more. Their commitment to responsible sourcing and production aligns perfectly with my values, making it a guilt-free addition to my skincare routine. I couldn't be happier with the results and the overall experience, and I highly recommend it to anyone looking to enhance both their skin and their confidence.

Gentle and nourishing

The way it offers deep hydration without any irritation is truly remarkable. I've had my fair share of unpleasant experiences with skincare products, but this one has consistently delivered positive results. After several months of using it, I've noticed a significant improvement in my skin's overall health and appearance. The softness, smoothness, and radiance it imparts have made me a believer in the power of this miracle oil. It's reassuring to find a product that genuinely cares for my skin's needs without causing any discomfort or side effects.

Will continue to use it

The hydration it provides is truly unparalleled, and the fact that it's already making my wrinkles fade is remarkable. It's a testament to the quality and effectiveness of this product. I've been thoroughly impressed with the results, and it has become an essential part of my daily routine as well. Knowing that it's not just a temporary fix but a long-term solution for healthier, more youthful-looking skin is incredibly reassuring. I'm excited to see how this miracle oil continues to enhance my skincare journeys, and I have no doubt that it will deliver even more fantastic results with consistent use.

We both love this oil

I am not the only one who has benefited from this cbd oil. My mom also commented that this miracle oil has been gentle on her skin and has done wonders in reducing her fine lines. She is absolutely thrilled with the results and has been recommending it to all her friends
You might like these products too...
Get the latest articles and business updates that you need to know, you'll even get special recommendations weekly.
By submitting this form, you are giving us permission to contact you directly via email or telephone. You can opt out at any stage, and your contact data will never be shared with any 3rd party without your explicit consent. Our Privacy Policy.
Call us on
203 965 2420
and speak to one of our CBD experts. Or you can email us at
info@britishcannabis.org
or send us a message
here
.
Our CBD experts are available 9am to 5pm Monday to Thursday, 8am to 4:30pm on Fridays. Our offices are closed Bank Holidays and Weekends.