Our premium RAW Cannabis Oils are rich in CBD and include full plant hemp extracts with high levels of beneficial terpenes, proteins, fatty acids and phytonutrients.
If you're looking for an oil that encompasses all the plants naturally occurring cannabis elements this is the oil for you! Its darker in colour and has adopted an acquired taste due to its intense flavour profile due to containing all of the original hemp constituents, without any of the actual plant materials.
Our RAW CBD Cannabis Oil is 'RAW' by name, 'RAW' by nature. It's darker in colour and has an acquired taste due to its intense flavour profile. This RAW CBD Oil for sale contains all of the original hemp constituents without any of the actual plant materials. Those looking for an oil that encompasses all the plants naturally occurring cannabis elements this is the oil for you!
100% Cannabis sativa L.  |  Vegan Certified  |  THC Free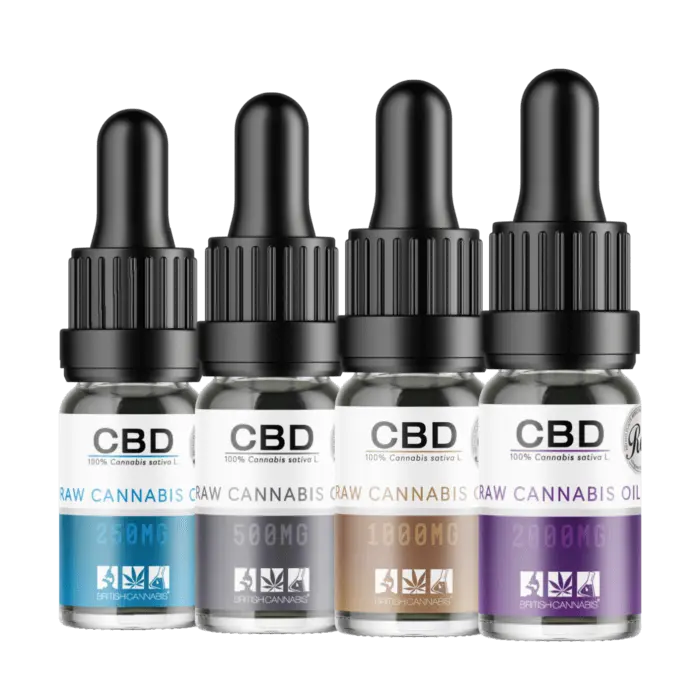 Each batch is quality tested for purity and contaminants.
CBD by BRITISH CANNABIS™
100% Cannabis Oils (RAW)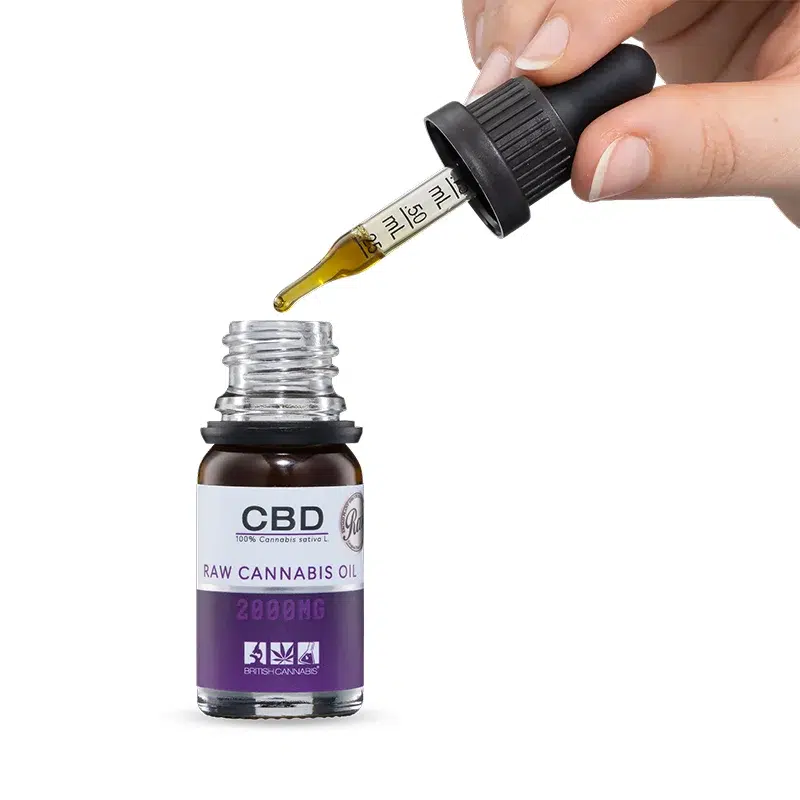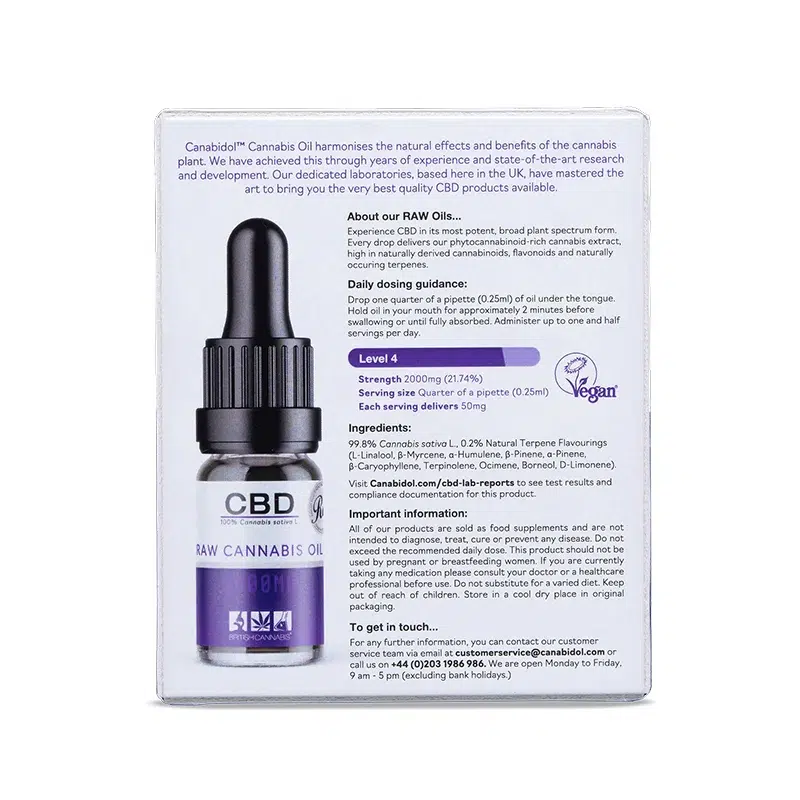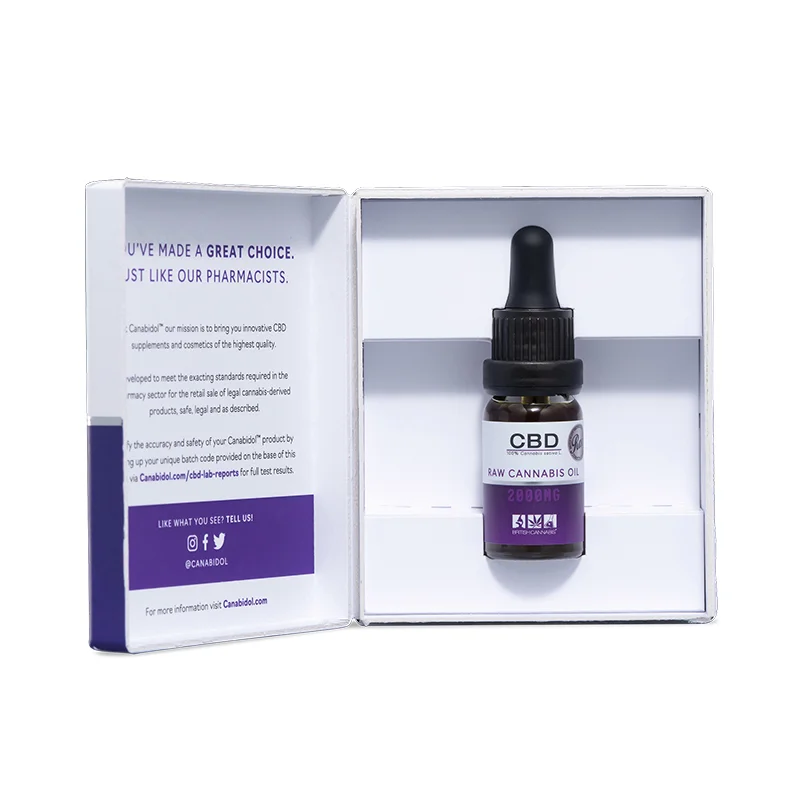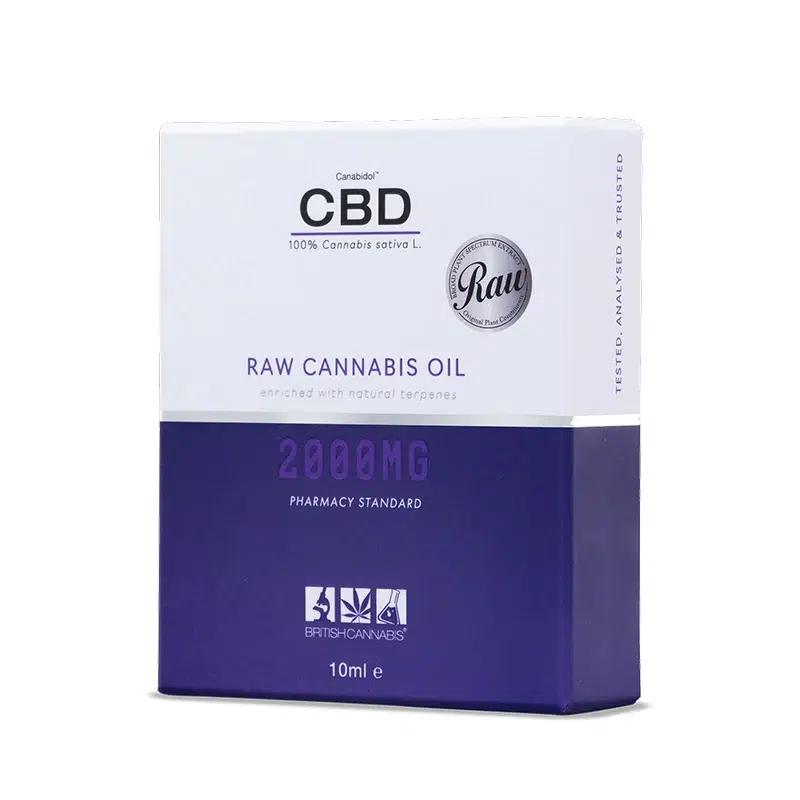 Drop oil using the pipette under your tongue. Keep the oil in your mouth for as long as possible to increase the bioavailability of CBD. Swallowing your oil instantly will reduce the bioavailability of CBD absorbed into your bloodstream.
RAW Cannabis Oil 2000mg
Quarter of a pipette (0.25ml) delivers 50mg CBD
RAW Cannabis Oil 1000mg
Half a pipette (0.5ml) delivers 50mg CBD
RAW Cannabis Oil 500mg
Half a pipette (0.5ml) delivers 25mg CBD
RAW Cannabis Oil 250mg
Half a pipette (0.5ml) delivers 13mg CBD
99.8% Cannabis sativa L., 0.2% Natural Terpene Flavourings. 
Suitable for Vegans.
Raw Cannabis Oil Buyers Guide
BRITISH CANNABIS™ is offering RAW CBD oil for sale that is abundant in active cannabinoids and terpenes, as evidenced by its darker colour.
We have invested significant time and effort into researching and developing CBD to provide you with the finest CBD food supplements.
CBD by BRITISH CANNABIS™ products is designed for the pharmacy sector and comply with strict standards for the retail sale of CBD, making it one of the longest-standing brands in the UK that have been leading the industry through our dedication to excellence, passion for compliance, and commitment to accuracy.
Raw cannabis oil is known for its rich concentration of cannabinoids and terpenes, obtained through a minimally processed extraction method. It retains the natural compounds found in the cannabis plant, offering a more holistic experience.
With its unique blend of active constituents, raw cannabis oil provides a distinctive and potent CBD supplement choice for those seeking a closer connection to the plant's raw essence.
Our raw CBD oil for sale includes a diverse range of dosage options.
What strength is best for me?
When considering the strength of Raw Cannabis Oil, it's essential to evaluate your individual needs and preferences. Factors such as tolerance, desired effects, and prior CBD experience come into play.
Our CBD for sale by BRITISH CANNABIS™ is available in three strengths: 250mg, 500mg, 1000mg and 2000mg.
If you are new to CBD oil, we always suggest starting with the lowest CBD milligram amount and working your way up depending on how your body responds.
Listening to your body's intuition is key!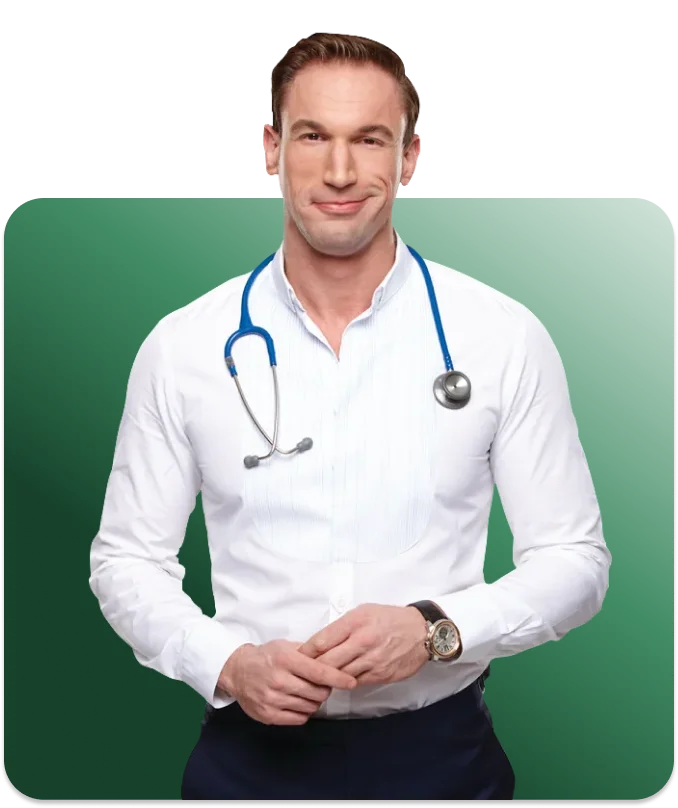 in partnership with british cannabis™
Your CBD GUIDE with
Dr. Christian Jessen
Reviewed by 42 customer(s)
Introduction with 250mg raw oil

Embarking on my CBD journey with the 250mg raw oil was a decision driven by a desire for a gentle introduction. As someone sensitive to supplements, I was cautious yet hopeful. The raw oil with its earthy and robust flavour, was a testament to its purity and natural origins. I found that it subtly eased my daily stresses without any overwhelming effects. It was like a soft, comforting whisper that reassured my mind and body amidst the chaos of everyday life. The mild strength allowed me to experiment and find my optimal dosage without concern, and I found myself gradually experiencing better sleep and a more stable mood. For those new to CBD or with sensitivities, this 250mg option is a considerate starting point.

CBD oil and patches

The subtle, yet noticeable impact of this product on my daily routine is remarkable. It seamlessly integrates into my life, providing a sense of balance and tranquility without any disruptive side effects. Moreover, the absence of drowsiness is a crucial aspect for me. Unlike other wellness products that might induce lethargy, this oil maintains my alertness while still offering the relaxation I seek. The earthy taste, though not particularly to my liking, is a small trade-off for the benefits I reap. Over time, I've even come to associate this taste with the impending sense of calm, making it more palatable. Expanding my exploration of their products, I recently tried their patches. They have added another dimension to my CBD experience. They are convenient, efficient, and discreet, providing all the benefits I've come to appreciate in a form that suits my lifestyle even more closely 😎👌

CBD newcomers

The 250mg raw oil is indeed the perfect entry point for newcomers like me, providing gentle relaxation without the feeling of being overwhelmed. For those who are new to CBD and looking for a smooth introduction, the 250mg strength is an excellent choice that offers a glimpse of CBD without being too potent. However, when it comes to the flavour, I must admit it wasn't quite to my liking. The earthy taste, characteristic of raw CBD oil, might not appeal to everyone's palate. This is a common observation, as the natural flavour of hemp can be quite distinct and robust. Considering this, perhaps I'm trying their refined oil on my next purchase would be a wise decision hehe. I look forward to trying their refined oil, hopeful that it will be a more palatable match for my taste buds. It's all about finding the right product that aligns with both your wellness goals and flavour preferences.

Oil and patches

The transformative impact of this oil on my wellbeing has been profound. The 500mg strength, in particular, has been a sweet spot for managing my anxiety and stress, providing just the right level of support without being overwhelming. It's this kind of efficacy that has truly enhanced my quality of life, allowing me to navigate daily challenges with greater ease and comfort. The variety of strengths available caters to a wide range of my needs. I've also had the opportunity to try their patches, which offer a convenient and discreet way to experience CBD. Moreover, the patches, like the oils, adhere to the same high standards of quality and transparency. They are made with the same attention to purity and efficacy, ensuring that I can use them with the same confidence I have when using the oils.

Good product

The potency of this product is impressive, but what sets it apart is that it strikes the perfect balance between effectiveness and comfort. It doesn't overwhelm my system, and i can go about my day with a sense of relief that was once elusive. The thoughtful formulation clearly considers the varied and dynamic lives of its users, providing a product that can seamlessly integrate into any lifestyle. It's a testament to a brand that not only understands its product but also understands its customers, providing solutions that enhance rather than dictate the rhythm of our lives. This empathetic, user-centric approach, both in the product and the overall customer experience, has solidified my loyalty and appreciation.
You might like these products too...
Get the latest articles and business updates that you need to know, you'll even get special recommendations weekly.
By submitting this form, you are giving us permission to contact you directly via email or telephone. You can opt out at any stage, and your contact data will never be shared with any 3rd party without your explicit consent. Our Privacy Policy.
Call us on
203 965 2420
and speak to one of our CBD experts. Or you can email us at
info@britishcannabis.org
or send us a message
here
.
Our CBD experts are available 9am to 5pm Monday to Thursday, 8am to 4:30pm on Fridays. Our offices are closed Bank Holidays and Weekends.