These delicious CBD Gummies by ACCESS CBD® offer an easy way to top up on CBD throughout the day. Each sweet packs a zesty burst of orange and lemon flavour, hand-finished with our very own natural terpene blend and 25mg of CBD.  Suitable for vegans.
ACCESS CBD® CBD Gummies Citrus 250mg provide an enjoyable way to get a dose of CBD. Bursting with fruity flavours, they are made with natural terpenes and contain 25mg of CBD.
Not only are these gummies THC-free, but they are also suitable for vegan individuals and offer a delectable snack throughout the day. 
Every pouch of ACCESS CBD® CBD Gummies Citrus 250mg contains 10 chewy sweets, each delivering 25mg of CBD. To optimise CBD bioavailability, we suggest you savour each gummy slowly before munching. Reseal the pouch to maintain freshness.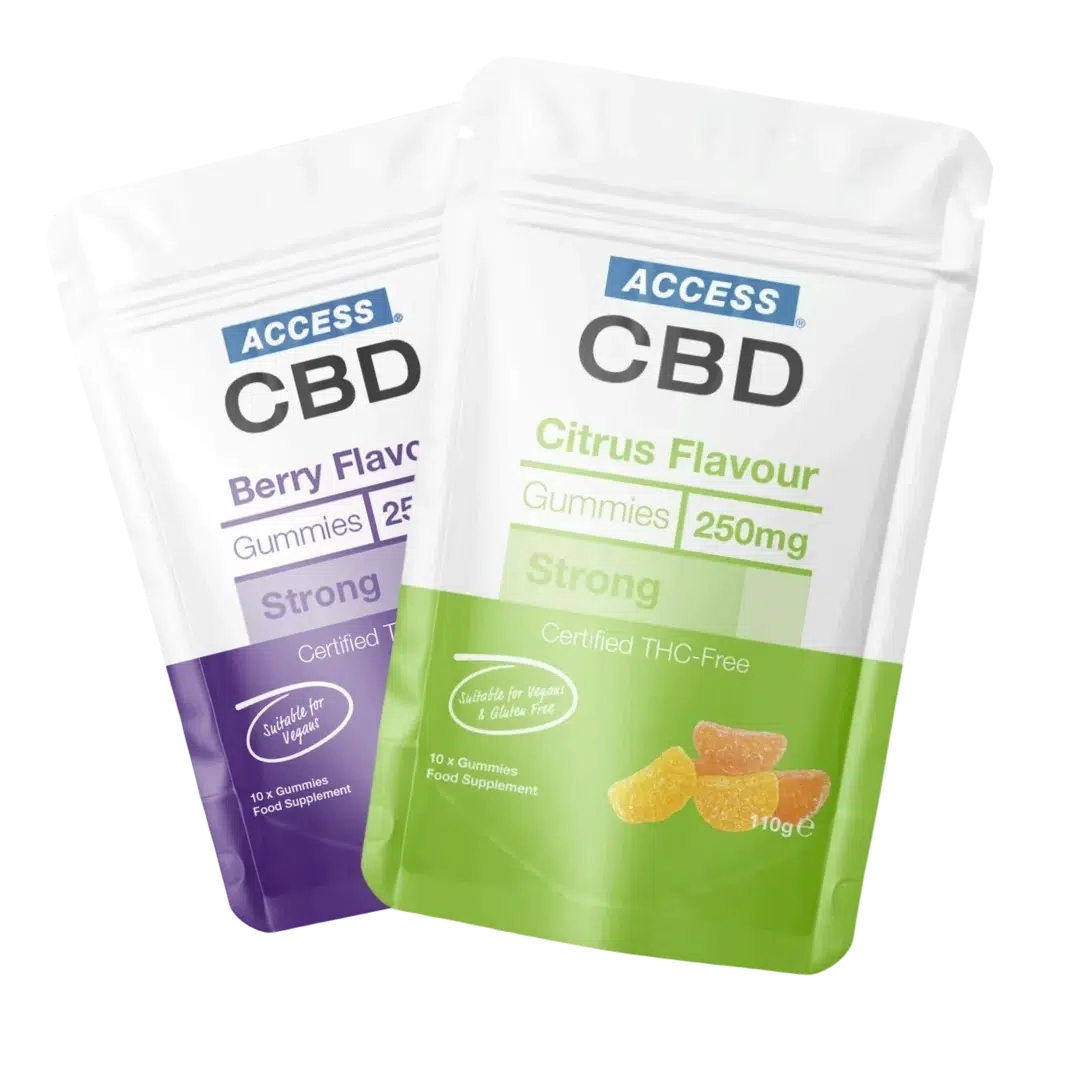 Every batch is quality tested for purity and contaminants.
ACCESS CBD® CBD GUMMIES CITRUS 250mg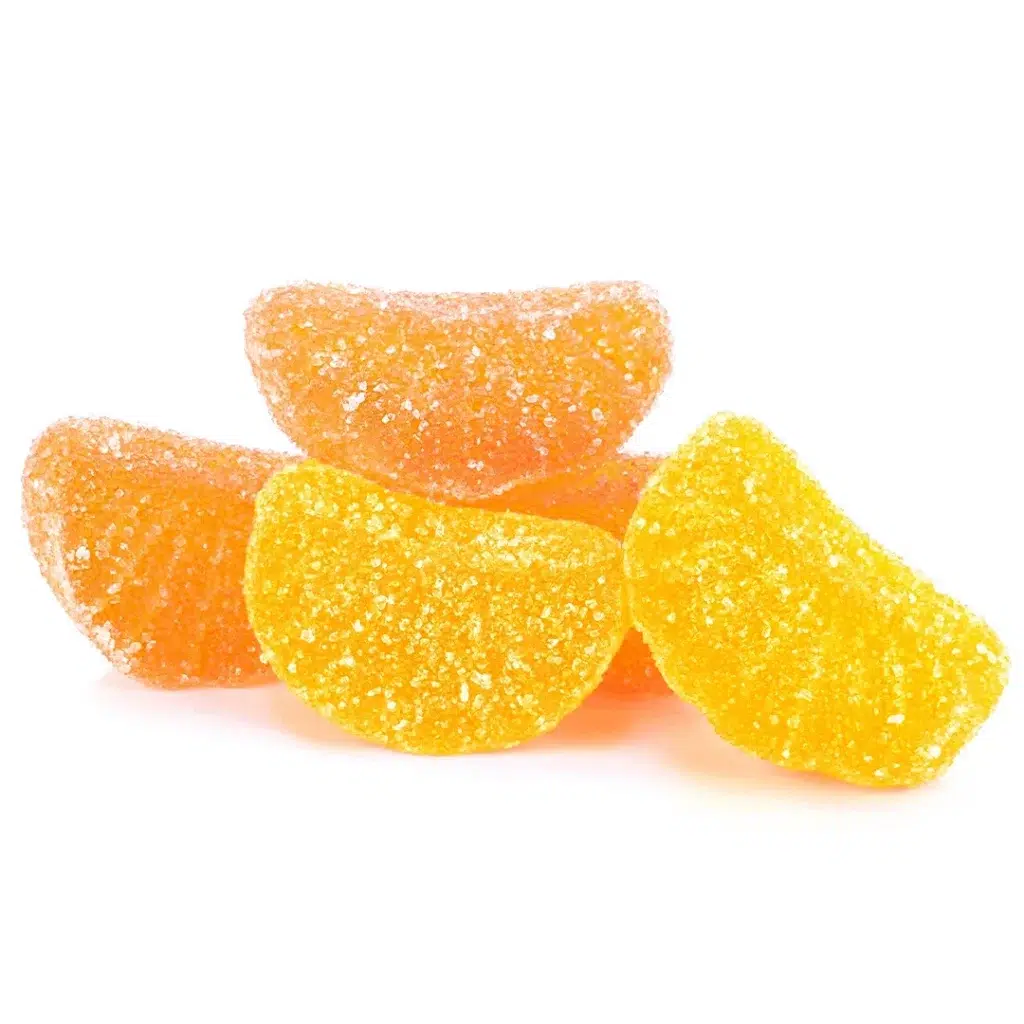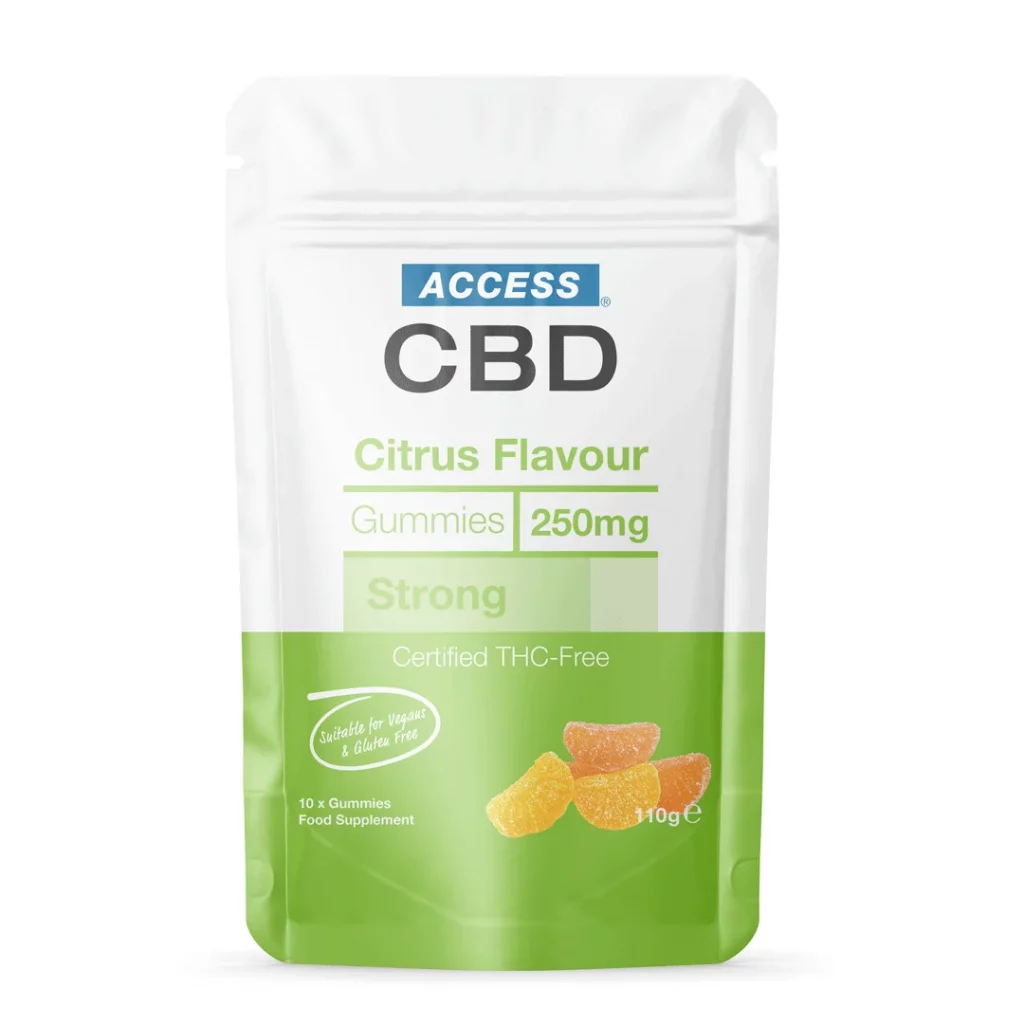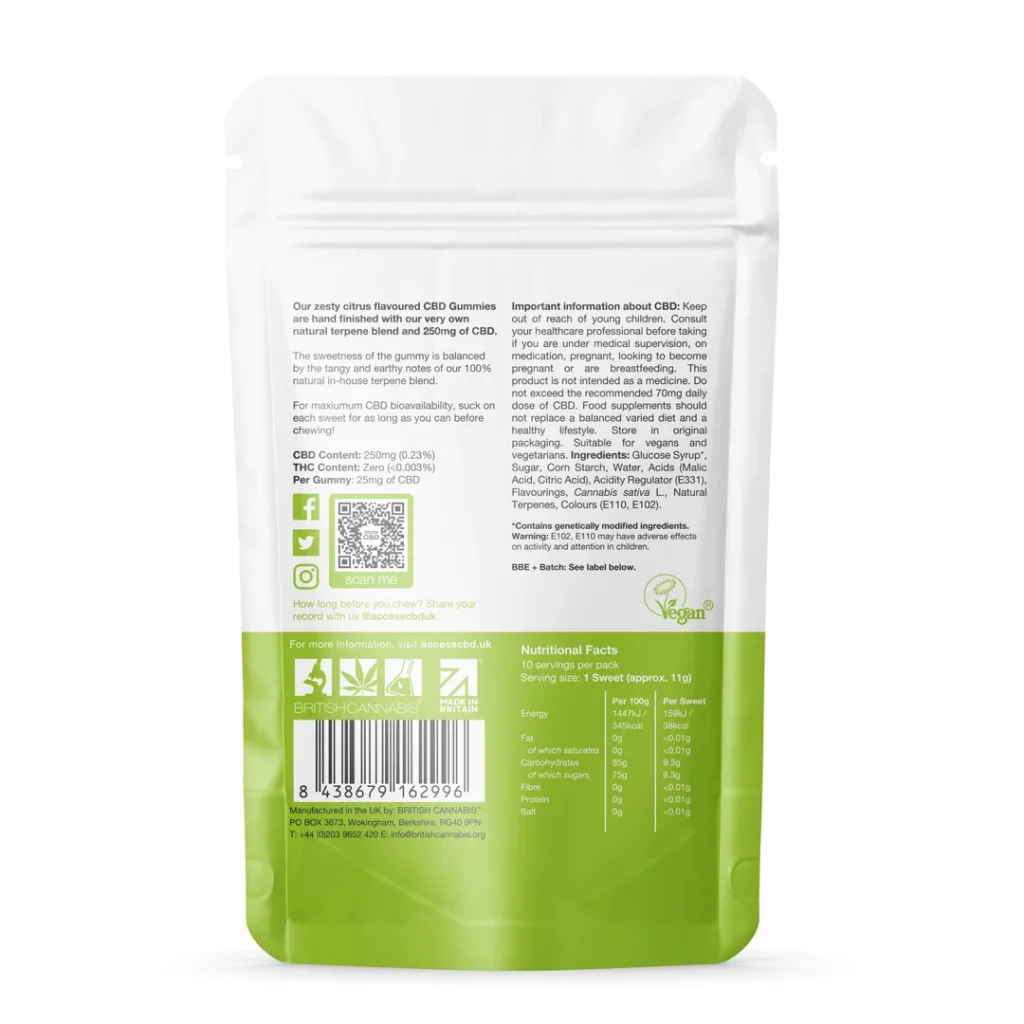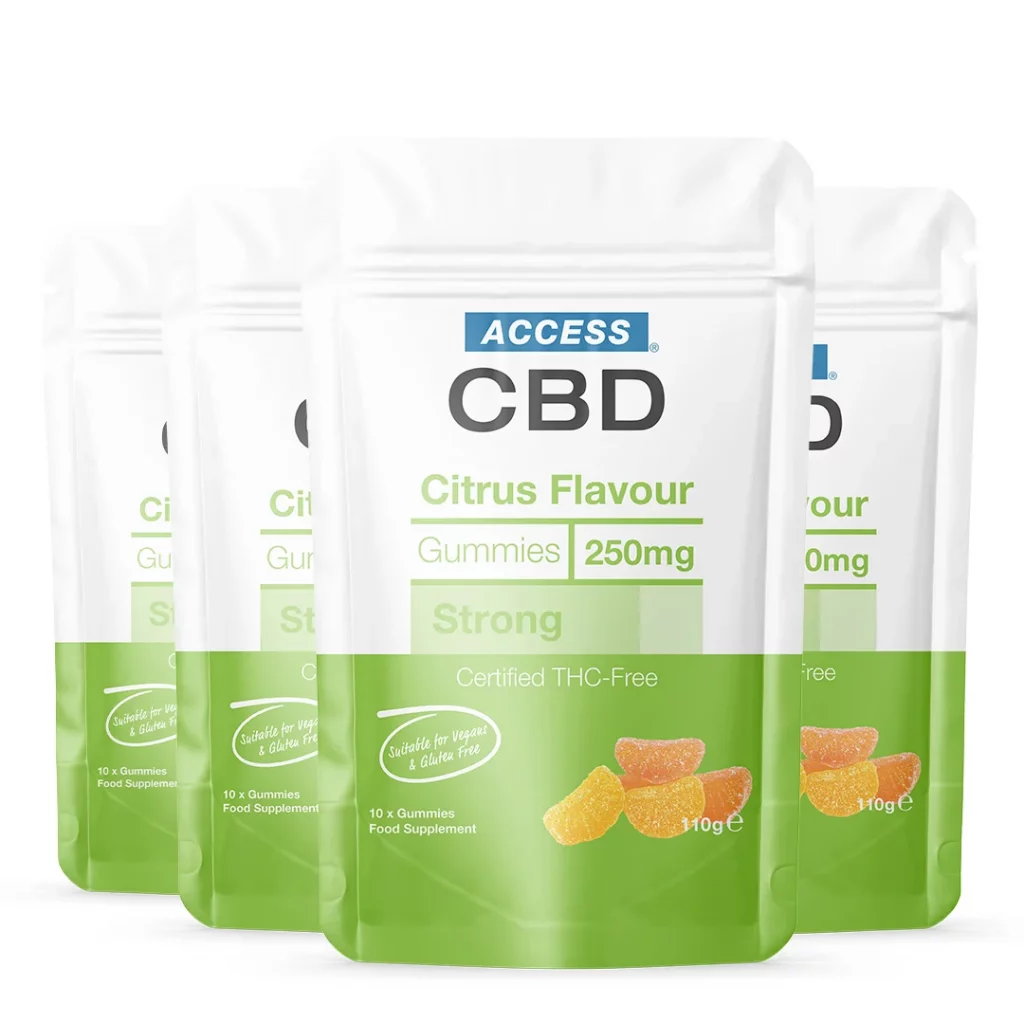 Every pouch of ACCESS CBD® CBD Gummies Citrus 250mg contains 10 chewy sweets, each delivering 25mg of CBD. To optimise CBD bioavailability, we suggest you savour each gummy slowly before munching. Reseal the pouch to maintain freshness.
Glucose Syrup, Sugar, Corn Starch, Water, Acids (Malic Acid, Citric Acid), Acidity Regulator (E331), Flavourings, Cannabis sativa L., Natural Terpenes, Colours (E102, E129).
Warning: E102, E129 may have an adverse effect on activity and attention in children.
Allergen info: Packed in a factory that also packs products containing Gluten, Peanuts, Tree Nuts, Milk, Soya, Egg and products that contain Sulphur Dioxide/Sulphites. May contain GLUTEN.
CBD Content Per Pouch: 250mg (0.23%) 
CBD Content Per Gummy: 25mg
THC Content: Zero (<0.003%)
CBD GUMMIES CITRUS 250mg BUYERS GUIDE
ACCESS CBD® makes sure that each product delivers top quality CBD at affordable prices. Every product is tested for CBD accuracy and purity in our parent company (BRITISH CANNABIS) state-of-the-art laboratories, located here in the UK.
You can view the results of each lab test for extra peace of mind by visiting our Lab Reports portal where you can enter the batch code located on any of our products.
For further advice on our range, please do not hesitate to speak with one of our CBD experts. Click here to contact us.
Are CBD gummies legal in the UK?
Yes, as long as the
CBD extract
from hemp contains less than 0.2% THC, they are safe to consume. The compound THC which is found in hemp and cannabis produces the "high" associated with illegal cannabis use, but most CBD oils sold in the UK will not contain THC, which means the oils are not going to be psychoactive.
ACCESS CBD® products feature individual QR codes that give you instant access to compliance documentation and lab reports. Just point your phone's camera at the code and a notification will appear. Click on it, then enter the batch code printed on the back of the pouch for a comprehensive breakdown of the CBD content.
For the latest updates about CBD compliance, please refer to the FSA (Food Standards Agency)'s advice on the subject. It is important to remember that this CBD product is sold as a food supplement, and is not meant to treat, diagnose, or cure any illness. Please refer to the MHRA's guide to understand what constitutes a medical product.
Order before 2pm and receive free UK next working day delivery when you spend £20 or more. Once your order has been placed you will be sent updates on your ACCESS CBD® delivery. Door-to-door tracking and unbeatable CBD prices. What's not to love?
*Order must be placed before 2pm. Excludes bank holidays.
Keep out of reach of children. This product is not intended to treat any medical condition. Use at your own risk. Not suitable for pregnant or breastfeeding women. Do not exceed 70mg of CBD per day. Store in original packaging and keep out of direct sunlight. You must be over 18 to use this product.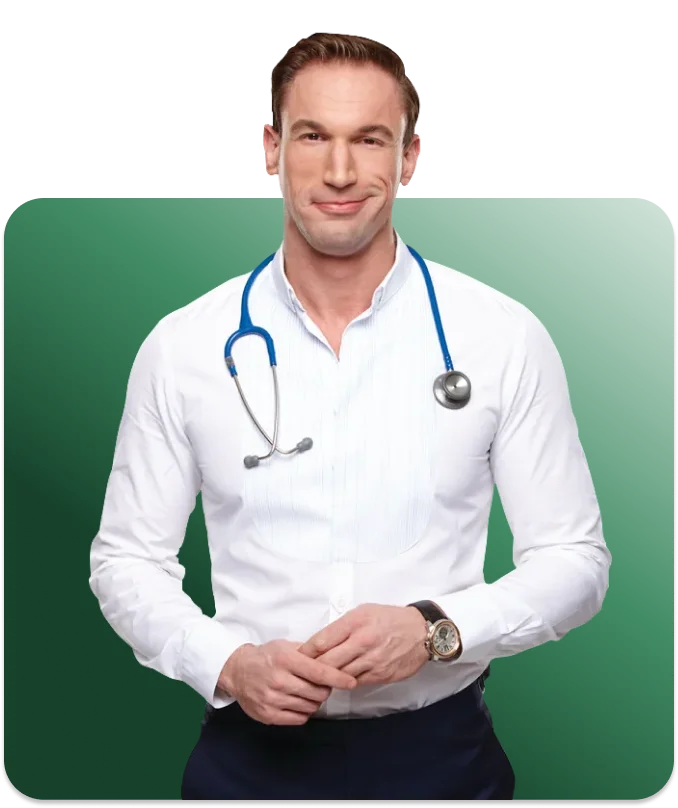 in an exclusive partnership with british cannabis™
Your CBD GUIDE with DR. Christian Jessen
Reviewed by 20 customer(s)
Enjoyable, swift and seamless

The citrusy taste was enjoyable, offering a burst of freshness that was both invigorating and delightfully tangy. A few minutes after consuming, a change was noticed. I felt a calm energy, a gentle nudge of clarity amidst a day often cluttered with tasks and distractions. It was like a mini caffeine boost without any of the jitters associated with drinking too much coffee. The easy website experience was complemented by a fast delivery system that exceeded my expectations. From the moment I placed my order to the swift arrival of my package, the process was seamless, providing a smooth, enjoyable journey from start to finish.

Refreshing Experiences

The tangy and refreshing quality of the flavour is undoubtedly a highlight, providing a delightful twist to the gummy experience. It's akin to a burst of citrusy sunshine, which can be particularly enjoyable, especially if you're looking for a unique and lively flavour profile. In terms of relaxation, i felt a mild sense of calm, but it didn't completely melt away my stress. While these gummies may not completely melt away my stress, the fact that they offer a gentle sense of calm is still a noteworthy benefit, especially for those who prefer a milder effect.

Giving me a moment of relaxation

These cbd gummies infused with citrus flavours brought a moment of relaxation to my day. The tangy taste was enjoyable. They truly provide a unique and enjoyable experience that's perfect for those looking for a gentle way to relax and unwind during the day.  It adds a pleasant twist to the usual gummy experience. It's not overly sweet or artificial, which is something i appreciate. Instead, it offers a tangy, refreshing taste that tingles the taste buds in just the right way. The calming effect is subtle yet highly effective. It's not overpowering, which makes these gummies ideal for maintaining a sense of tranquility without feeling too drowsy or disconnected from your surroundings. They strike a perfect balance between relaxation and alertness, making them suitable for various situations throughout the day.

Refreshing break

The citrus flavour have truly provided a refreshing break from the ordinary. The zesty sensation on my palate was both invigorating and enjoyable, making it a delightful snack that offered a milder yet noticeable sense of calm. What sets these gummies apart is the absence of any bitter aftertaste plus, the fast delivery and discreet packaging provided peace of mind, ensuring I always have them when needed. Overall, it's been an enjoyable journey with these gummies, offering a tasty and soothing way to enhance well-being.

A tangy twist

The citrus flavour in these gummies truly offers a delightful twist that's both tangy and refreshing. It's like a burst of citrusy goodness with every bite, making the experience enjoyable from the very first taste. But it's not just about the flavour  it's the subtle yet noticeable relaxation effect. On a particularly hectic workday, I decided to indulge in one of these citrusy gummies during my lunch break. As the day unfolded, I found myself feeling more centered and less overwhelmed 
You might like these products too...
Get the latest articles and business updates that you need to know, you'll even get special recommendations weekly.
By submitting this form, you are giving us permission to contact you directly via email or telephone. You can opt out at any stage, and your contact data will never be shared with any 3rd party without your explicit consent. Our Privacy Policy.
Call us on
203 965 2420
and speak to one of our CBD experts. Or you can email us at
info@britishcannabis.org
or send us a message
here
.
Our CBD experts are available 9am to 5pm Monday to Thursday, 8am to 4:30pm on Fridays. Our offices are closed Bank Holidays and Weekends.